Applications for Kickstart program open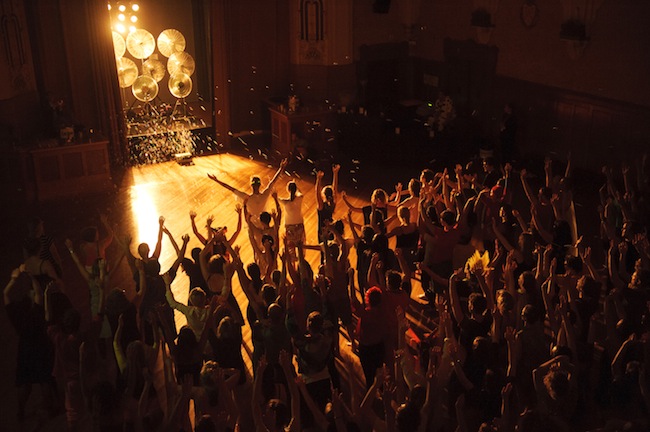 Next Wave is recruiting! Applications for the 2015 Kickstart artist development program are now open and close Monday, November 17. The celebrated program gives artists money, time and space to realise their wildest and most ambitious ideas, and the opportunity to showcase the fruits of their labour as part of the 2016 Next Wave Festival.
In 2015, Kickstart's intake of artists will be recruited from all over Australia and will hold public briefings around the country during the application period. The program runs for over 12 months, making it the longest of its kind in Australia, and will offer selected artists seed funding of up to $8,000, invitation to an artist retreat in rural Victoria, participation in three seminars held throughout the year in Melbourne and access to Next Wave's resource pool, including a dedicated producer.
Georgie Meagher, Next Wave Artistic Director, hopes to engage participating artists in a unique learning experience that is driven by the participants themselves. It will extend into critical thinking and help them build practical skills for sustainable artistic careers.
2015 Kickstart applicants will respond to a provocation devised by Meagher: a text called "This is a request." The text presents a conversation about artistic research and process and includes quotations from diverse sources, such as novelists, educators and theorists, as well as text from Apple's famous 1997 "Think Different" advertising campaign and a U.S. insurance company website.
"There is all this talk about 'seeing things differently,'" said Meagher, "inventing, imagining, creating… You see this type of language in every kind of advertisement now — what does it mean for artists?"
"In a world where even car companies are 'harnessing the power of creativity', it's all the more important for young artists to find their own voice. Through Kickstart we ask artists to think wide, listen deep and go long — and to speak up about the things important to them," she said.
Meagher joined Next Wave last month as artistic director and co-CEO after a rigorous nationwide and international search. From Sydney, Meagher comes with a wealth of knowledge, experience and passion cultivated from her previous roles at Performance Space at Carriageworks, artist-run-initiative Firstdraft and Sydney's Museum of Contemporary Art (MCA), which saw Meagher organise symposia and major talks with artists including Yoko Ono, Annette Messager, Richard Long and Jeff Wall, and curators and critics Michael Fried, James Lingwood and Alice Rawsthorn.
Now in its 14th year, Kickstart runs in the year prior to the biennial Next Wave Festival. Billed as Australia's biennial festival of emerging artists, Next Wave Festival is a citywide, month-long celebration of arts and culture from around Australia and the globe.
Kickstart is unique in Australia for its depth, scale and multi-faceted approach to artist and project development. Notable alumni of the Kickstart development program include Archibald Prize finalist Abdul Abdullah, nationally acclaimed performance ensembles POST and Brown Council, and Bennett Miller, whose widely acclaimed work Dachshund UN (featuring hundreds of Melburnian sausage dogs in a mock United Nations) subsequently toured to Sydney, Perth, Birmingham, Toronto and Montreal after its debut at 2010 Next Wave Festival.
"Next Wave is all about the future: it's embedded in its title. For audiences, it's a chance to see the big names of the future before they become big. And, more importantly, we also get to see young people speaking for themselves, articulating their hopes, fears and desires," wrote ABC Arts Online.
Next Wave's 2015 Kickstart
applications opened Thursday, October 9 and they will close Monday, November 17. For more information, visit nextwave.org.au or call (03) 9329 9422.
Photo: Rebecca Jensen and Sarah Aiken's Deep Soulful Sweats in Next Wave Festival 2014. Photo by Sarah Walker.