Anthony Breslin's 'TRYBE' in Melbourne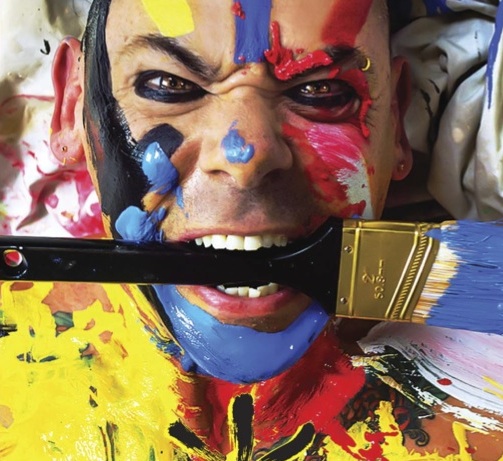 A gorgeous, colorful production drawing on all media forms is coming to Melbourne's Chapel Off Chapel in March. Titled TRYBE: An Opera In Paint, the work is the brainchild of renowned Australian artist Anthony Breslin and is co-directed and choreographed by Stephen Agisilaou. The production challenges the boundaries of dance, art, music and film to create a different piece of work nightly.
Beginning Thursday, March 14, TRYBE is an ambitiously innovative show, drawing on various media forms to produce an exciting, cohesive narrative performance. Breslin takes to the stage joined by six of Melbourne's finest dancers, including Hayley Uberti, Benjamin Cure, Megan Sayce, Robert McLean, Lucy Doherty and Benjamin Hancock. With a live band, a giant blank canvas and projection screen, the show allows the audience to watch the creation come to life.
In all, TRYBE combines painting, dance, sculpture, music, theatre, multimedia and technology to produce an unparalleled and cohesive expression of artistic unity. The work seeks to seamlessly fuse multiple elements into an exhilarating and moving production.
The plotline vaguely follows a nameless artist as he plunges into the abyss of his imagination. At first finding himself suffocating by isolation and doubt, he courageously leaps into creative possibility, tapping into his own primal power and finding the wonderment of colour itself.
"In a tidal wave of movement, music and light, TRYBE challenges all physical limitations, a unique and luminescent experience, an opera splashed in paint, where we watch the artist become a servant to the brush and surrender to his swan song," described an event notice.
Running through Sunday, March 24, 
shows will be presented
 Wednesday through Saturday at 8 p.m. and on
 Sundays at 6:30 p.m. 
Tickets are $30 full price and $27.00 for concession. TRYBE's total running time is 1 hour and 40 minutes, including a 20-minute interval.
For more information, visit chapeloffchapel.com.au.