'All That Glitters' costume exhibition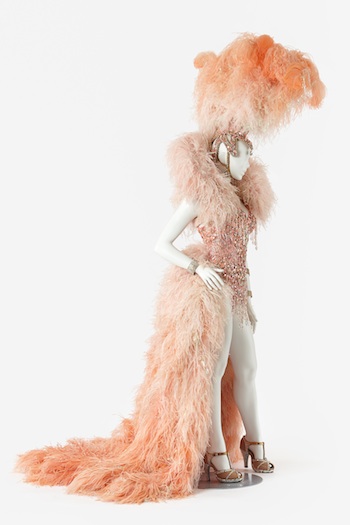 The most show-stopping examples of stage costume from Arts Centre Melbourne's Performing Arts Collection, including costumes worn by Dame Edna Everage, Kylie Minogue and Dame Nellie Melba, will be showcased in All That Glitters, a new free exhibition in Gallery I from 16 November 2013 – 23 February 2014.
The exhibition, which features couture-standard costumes, elaborate costume jewellery, costume designs, photographs and behind-the-scenes footage, celebrates the vision, creativity and skill of those who created them and the show-stopping performances that brought them to life.
The exhibition highlights include the spectacular stage wardrobes of Australia's greatest performers, which epitomise the drama and glamour of theatrical costume at its most dazzling. It features Dame Edna Everage's iconic gladioli dress designed by costume designer Bill Goodwin and a Swarovski crystal encrusted costume designed by John Galliano, and worn by Kylie Minogue during her Kylie Showgirl: Homecoming Tour in 2006. A highly detailed embroidered cloak worn by Dame Nellie Melba and designed by Jean-Phillipe Worth will also be displayed.
Magnificent gowns recently donated by Opera Australia and a number of newly conserved pieces from the hit musicals of the 1950s and 1960s including Hello Dolly and a Cecil Beaton-designed My Fair Lady costume will feature.
The exhibition draws together a rich selection of costumes by leading Australian designers including Roger Kirk, John Truscott, Kenneth Rowell, Anne Fraser and Kristian Fredrikson. Many of the costumes have been created to form the centerpiece for some of the most lavish productions ever staged by companies such as The Australian Ballet, Sydney Dance Company, Melbourne Theatre Company, Bell Shakespeare and Opera Australia.
Each costume has its own unique story and All That Glitters retells these stories with photographic images of the costumes in performance, capturing some of Australia's most charismatic performers in action. Large-scale productions from the world of opera create a major focus point for the exhibition with three extraordinary gowns created specifically for Dame Joan Sutherland.
Stunning costume jewellery on show will offer a historic glimpse at the captivating stage persona of performers such as Nellie Stewart, Queenie Paul and Esme Levante whose appearances lit up the Australian stage in the first half of the 20th Century. Treasured jewellery pieces, including a jewel encrusted armband and an elaborate headpiece from a famously extravagant production of Aida first seen in Australia in the 1930s, will feature in the exhibition.
The exhibition items are drawn entirely from the Arts Centre Melbourne Performing Arts Collection, Australia's largest and most important collection of performing arts history and traditions. This collection comprises more than 520,000 items documenting nearly 200 years of performance in Australia across theatre, music, dance, circus and opera, and is featured in exhibitions that attract over 600,000 visits a year.
In recent years, Arts Centre Melbourne has been creating and touring comprehensive exhibitions that celebrate Australia's most iconic performing artists. The Kylie Minogue exhibition attracted 460,000 visitors in Australia, and became the second-most popular decorative arts exhibition in the world when it was staged at the Victoria and Albert Museum in London to a further 519,000 visitors.
Arts Centre Melbourne presents All That Glitters: Costumes from Arts Centre Melbourne's Performing Arts Collection at Arts Centre Melbourne's Gallery I beginning November 16. For more information on this free exhibition, visit www.artscentremelbourne.com.au.
Photo: A Swarovski crystal encrusted costume designed by John Galliano, and worn by Kylie Minogue during her Kylie Showgirl: Homecoming Tour in 2006. Photo courtesy of Arts Centre Melbourne.