Aerial dance festival set for France in July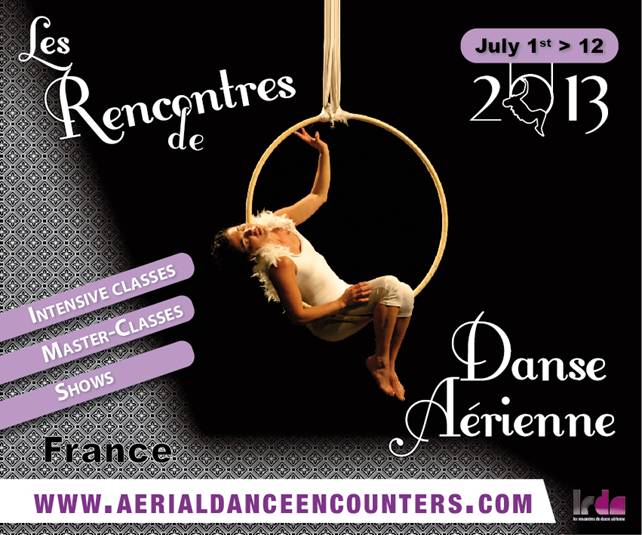 The 5th Aerial Dance Encounters, titled "Les Rencontres de Danse Aérienne," will take place July 1- 12, 2013 at the MJC of La Baule and at the Atlantique gymnasium of Le Pouliguen in France.
An international aerial dance festival, Aerial Dance Encounters is an educational and artistic event that takes place every year during the first two weeks of July. Offered to beginners and professionals alike, this meeting of contemporary circus and aerial dance is open to all ages from teenagers to adults. It hosts intensive classes as well as cultural evenings (shows and conferences).
This year, the aerial dance festival promises an ambitious program full of new events. Plus, an additional studio space will allow officials the opportunity to offer even more classes.
Festival classes include harness dance, hammock, hoop and wall dance, stretching, aerial warm-up combinations and aerial yoga. The GYROKINESIS® methods will also be taught to show how to work and connect the whole body using the seven natural elements of the spine: flexion, extension, left and right lateral bending, twisting and circular motion.
Following the two-week event, a one-week master class in aerial fabric will be offered for pre-registered and confirmed students. Advance application is required.
With a continuing commitment to invite internationally renowned teachers to offer a wide choice of unique classes, the festival is a varied program that offers the possibility of meeting artists from around the world. Often students have the once-in-a-lifetime opportunity to publically present their own work too.
As always, a warm welcome at the reception will be offered on Sunday, June 30 and Sunday July 7, where students can socialize, meet the teachers, tour the class location, as well as share in a performance of vertical dance and a delicious meal of traditional crêpes.
Registration for classes at the 2013 Aerial Dance Encounters is now open. For more information, visit www.lesrencontresdedanseaerienne.com.