ADT performs in Indonesia for first time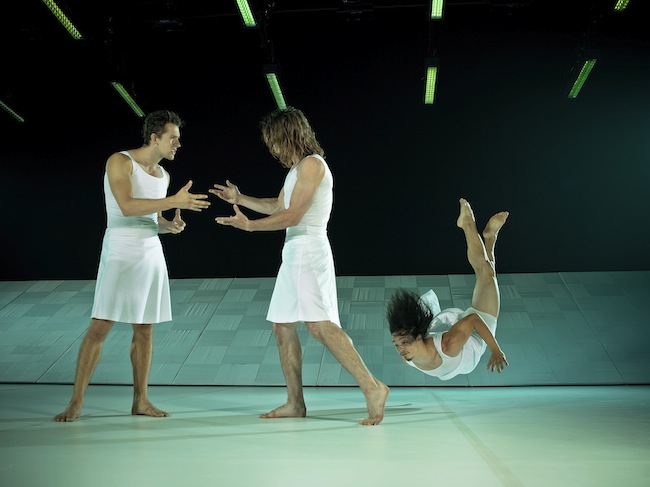 Australian Dance Theatre (ADT) will perform for the first time in Indonesia this weekend. The company will present Artistic Director Garry Stewart's Be Your Self at the 5th Salihara Festival in Jakarta on October 11 and 12, 2014.
Be Your Self, which premiered at the Adelaide Festival in 2010, was selected by the Salihara Festival as a work that takes the human body and the meaning of being a human, back to the stage. Fusing different narratives from Buddhism philosophy to medical texts, the movements of the dancers are designed to be highly athletic, sophisticated and dangerous.
The Salihara Festival, curated by Artistic Director Tony Prabowo, has scheduled Be Your Self into a program of international performing arts that opens "new paths" in art.
This tour has been supported by the Australian Embassy in Jakarta with the aim of strengthening cultural and economic ties between Australia and Indonesia. Throughout 2014, arts and culture, along with science and innovation, is the focus for the Embassy, showcasing contemporary Australian music, visual arts, literature, sport, science and innovation and dance across Indonesia.
Australian Dance Theatre's Executive Director Julianne Pierce said the company is absolutely thrilled to be touring to Jakarta.
"A current focus of Australian Dance Theatre is to reach new markets in Asia. There is much interest in Australian arts and culture across the region and this is the perfect time for us to showcase the best of Australian dance to our friends in Southeast Asia and more broadly in Asia. The support of the Embassy and Department of Foreign Affairs and Trade is very exciting for us. Their work to build bridges and create new opportunities has to be applauded," she said.
ADT sees this as the first step in Asian touring and is already in discussion with festivals in Korea and Taiwan about presentations during their 50th anniversary in 2015.
Australian Dance Theatre's international touring strategy is supported by the Australia Council and ADT also acknowledges the continued support of Arts SA. For more information on the tour, visit http://adt.org.au.
Photo: Australian Dance Theatre performs Be Your Self. Photo by Chris Herzfeld of Camlight Productions.