Admired Australian Gailene Stock passes away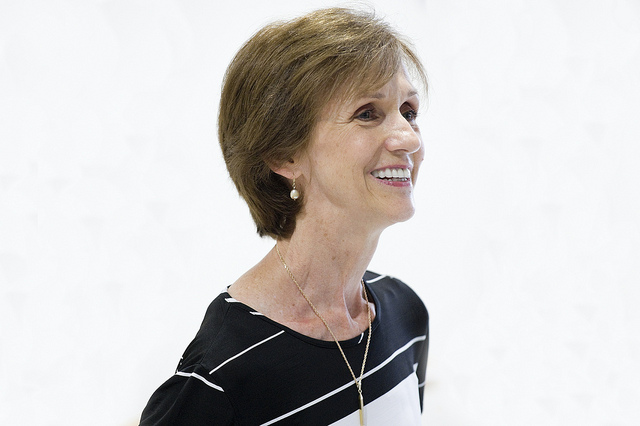 Gailene Stock, the Australian director of The Royal Ballet School, has passed away at 68 years old. Stock, born in 1946 in Ballarat, Victoria, had held her position over the world-renowned classical training centre since 1999.
Although not without controversy, Stock successfully managed the School for 15 years with many notable accomplishments. Known for her pragmatic approach, she revived the institution through hosting more public performances, pioneering overseas exchanges and encouraging competition. According to The Telegraph, when she was recruited in 1999, the School's graduate employment rate was under 50 percent and the organisation desperately needed revamping. Over her tenure, pupils once again became prominent recruits to The Royal Ballet and other top British companies.
Stock, who started dancing at the age of four, achieved a bright and impressive career amidst both tragedy and misfortune. At 8 years old, she contracted polio and spent 18 months in an iron frame. At age 14, she was seriously injured in a car accident when a cement lorry hit her father's car. Yet, through immense determination, Stock recovered from both instances and returned to dance and eventually won the Royal Academy of Dance's 1962 overseas scholarship. That same year, when she was only 16 years old, Dame Peggy van Praagh chose her to be the youngest foundation member of the newly formed Australian Ballet, which caused her to defer her scholarship in order to join the company.
Later, Stock took up her RAD scholarship at The Royal Ballet School, which led to an invitation to join The Royal Ballet. But instead, she decided to return to The Australian Ballet, where she went on to dance around the world to great acclaim. In her career, Stock also danced with the National Ballet of Canada (1974-76) and The Royal Winnipeg Ballet (1976-77.) She retired from dance when her husband (fellow Australian dancer Gary Norman) and her welcomed the birth of their daughter Lisa in May 1978.
One year later, Stock was appointed director of the National Theatre Ballet School in Victoria, and went on to work as a teacher, director and administrator for companies and schools around Australia, New Zealand and Canada. She was made a Member of the Order of Australia in 1997 and in 1998, became the first Australian representative on the Executive and Artistic Committees of the Royal Academy of Dance in London.
In 1999, she accepted her position as director of The Royal Ballet School from Merle Park. According to the Royal Opera House, she was responsible for many developments to the curriculum, including placing a greater emphasis on contemporary dance and pas de deux. She also introduced a third year into the Upper School to allow students to manage their studies with overseas auditions, in addition to furthering the School's touring opportunities, expanding the choreographic course and re-introducing a teachers' course for professional dancers and a teacher exchange programme.
Yet, perhaps most important of all, Stock's tenure as director of the School positively affected hundreds of students' lives. Her investment in dance education is highly esteemed and the changes she pioneered will be in affect for many years to come.
"She was an inspirational figure at the School and will be much missed," noted the Royal Opera House.
Photo: Gailene Stock. Photo © Patrick Baldwin, courtesy of the Royal Opera House.
*Sources include: The Royal Opera House and The Telegraph.