ACT dance artists share creative practice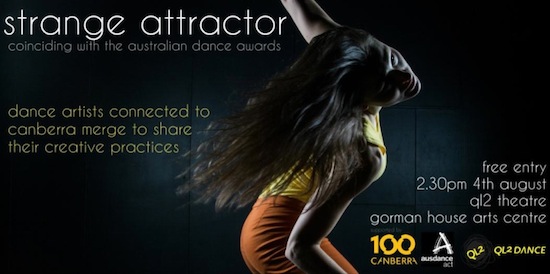 On Sunday 4th August, various independent dance artists from Canberra are merging to present a fast and focussed sharing of their creative and performance practices. Fittingly titled Strange Attractor, the event coincides with the 2013 Australian Dance Awards and an action-packed Centenary year for dance in Canberra. The afternoon of dance will include performance, exhibition and film displaying the diversity of contemporary dance practice happening in the ACT.
Strange Attractor has been initiated by a small and passionate group of Canberra based dance practitioners, Adelina Larsson, Jamie Winbank and Alison Plevey. Co- producer of the event, Alison Plevey explains that the "presenting artists are either based in Canberra or have a strong connection to the Canberra professional dance scene, with a history of working here or a nomadic practice here, like a strange attractor".
Performers include Adelina Larsson, Alison Plevey, Liz Lea, Dean Cross, Miranda Wheen, James Batchelor, Jake Kuzma, Amelia McQueen and MakeShift Collective, with film and photographic work by Vivienne Rogis, Lorna Sim and Sarah Kaur.
Strange Attractor, a celebration of Canberra's independent dance practice, is supported by Ausdance ACT, Canberra 100 and QL2 Dance Inc. It is happening on Sunday 4th August from 2:30 to 4 p.m. at QL2 Dance Inc. Theatre, Gorman House Arts Centre, Braddon, ACT. Entry is free and there are no bookings, so it is first in first seated! At most, 100 will be allowed in.
For more information on Strange Attractor or the 2013 Australian Dance Awards, visit ausdance.org.