ACPA Academy of Performing Arts
ACPA ACADEMY – Full Time Performing Arts High School RTO #31624

CUA30120 Certificate III in Dance
CUA40120 Certificate IV in Dance
NEW COURSE COMING IN 2022! CUA51520 Diploma of Dance (Elite Performance)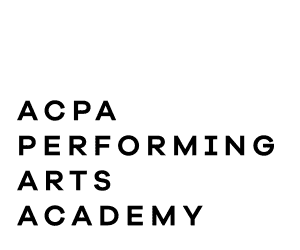 Course Details
ACPA ACADEMY
The ACPA Academy is a full-time pre-professional program for elite students in years 10 to 12 who are looking for a career pathway in the performing arts as well as a commitment to completing their schooling. This intensive program sees students training approximately 18 hrs per week in subjects such as Music Theatre, Jazz, Tap, Contemporary, Lyrical, Ballet, Choreography, Acting, Audition Techniques, & more.

Students enrolled in the ACPA Academy undertake their academic subjects at Thebarton Senior College in a specialised integrated program. Thebarton Senior College is located 10 minutes from our facility via public or private transport.
In 2022, students studying the Cert IV (CUA40120) in Dance and our new Diploma of Dance – Elite Performance (CUA51520) may be eligible for government funding.
CERTIFICATE III IN DANCE
The Certificate III in dance is perfect for school age students (years 10 and up) looking to advance their training and bridge the pathway between finishing school and a Certificate IV in Dance. This entry level qualification presents students with the opportunity to gain industry skills in a variety of areas such as an introduction to dance teaching, performance and choreography whilst also increasing their technical ability through weekly classes.
The units ACPA offer help assist students with finding their passion and chosen career. Successful completion of Certificate III in dance will achieve up to 70 Stage 2 credits to put towards the students SACE Certificate.
CERTIFICATE IV IN DANCE
The Certificate IV in Dance is a one-year intensive program focused on performing arts at an elite level. This nationally recognised course was designed as a stepping stone for students who wish to refine their skill set across an array of genres and extend their performance skills.
Training 6 hours a day in our state of the art facility, only five minutes from Adelaide's CBD, students are mentored under the guidance of our world class teaching faculty, who will nurture their development to becoming a professional in this industry.
Training Components

Over the course of 12 months students will cover a variety of subjects of which include:

Dance technique in the following genres:
– Jazz
– Tap
– Ballet
– Commercial
– Contemporary
– Lyrical
– Musical Theatre
– Vocal Technique
– Pilates and conditioning
– Acting technique
– Audition and performance techniques
– Nutrition/Fitness
– Stage Craft
As a nationally recognised qualification, there is a strong focus on leadership, management and mentoring skills that are necessary to become an exceptional teacher. You will be working alongside mentors who have years of industry experience in teaching, stage management, production, business management and more.

Training Components
Over the course of 12 months or 2 years part time, students will cover the following subjects:
-Choreography
-Practical teaching sessions
-Training programs and developing lesson plans
-Planning and designing assessment activities and programs
-Classroom management techniques
-Performance and live production
-Business and studio management
-Nutrition and Anatomy
-Work Health and Safety
-Safe Dance Teaching practices
-Relationship Management
-Working with children
Teaching Faculty
Kim Grant-Taylor (Director/Head of Technique), Stephanie Thompson (Tap, Music Theatre), Pep Rigano (Commercial, Hip Hop), Stef Rossi (Acting), Erin Pregarc (Dance Physiotherapist), Jessica Goldfinch (Contemporary), Stefaan Morrow (Ballet), Josh Taylor (Tap, Music Theatre)
Meagan McLaren (Course Coordinator), Alexis Koukouvitakis (Course Coordinator)
AUDITION DETAILS
To audition for any of the above courses, please touch base with our team for our information night/open day.
Contact
Address: 37 Walsh Street Thebarton
Email: alexis@acpa.com.au
Phone: (08) 8352 7860