2018 NATIONAL COLLEGE OF DANCE AND JUNIOR ACADEMY SUMMER SCHOOL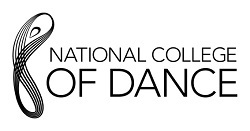 2018 National College of Dance Senior Summer School
2018 National College of Dance Junior Summer School
Book now for an exceptional Summer School – not to be missed.


Senior Summer school is 5 days of intensive dance fun for ages 10+ to pre-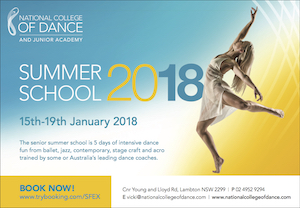 professional. Guest include Direct for New York – David Palmer – Artistic Director of Rochester City Ballet and Sophie Holloway Radio City Rockette. Australia own Jason Winters will be joining our amazing line up of teachers.


Junior Summer School is 3 days of fun dance classes and costume craft classes for 3-10 year olds.


Senior Summer School
www.trybooking.com/SFFE
Junior Summer School
www.trybooking.com/SFEX
Subjects
Senior Summer School
Classical Ballet, Contemporary, Jazz, Lyrical, Choreography, Acro
Junior Summer School
Ballet, Jazz, Choreography, costume making, Acro
Teachers
Senior Summer School
David Palmer – Rochester City Ballet
Brett Morgan – Artistic Director
Sophie Holloway – Radio City Rockette
Jason Winters – Choreographer
Debbie Ellis Linnert – Choreographer
Zoe Jones – Choreographer
Junior Summer School
Jake Burden
Montana Doyle
Jamie King
Isabelle Leonard
Dates
Senior Summer School
15th – 19th January (ages 10+ to pre-professional)
151 Young Road Lambton NSW
Closing Date 12th January


Junior Summer School
10th-12th January Ages (3 – 9 years)
151 Young Road Lambton NSW
Closing Date 8th January
Venue
National College of Dance Studios
151 Young Street (Cnr Young and Lloyd Sts)
Lambton NSW 2299
Contact
Reception
Vicki Morgan
National College of Dance