2014 World Dance Alliance Global Summit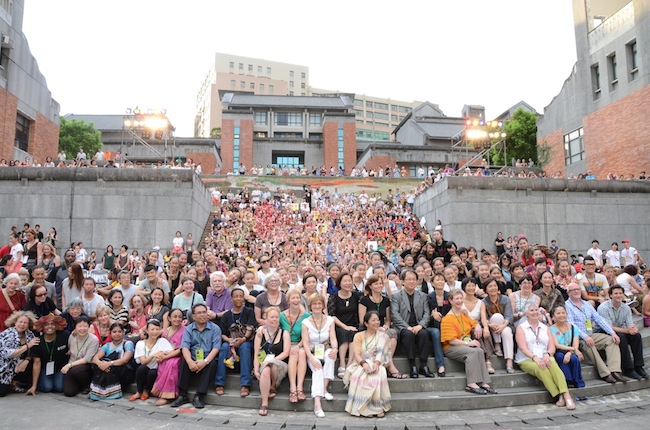 The 2014 World Dance Alliance Global Summit will take place in Angers, France on July 6–11. Presented in partnership with Centre National de Danse Contemporaine (CNDC) in association with the University of Angers, the Summit's theme is "Contemporising the past: Envisaging the future."
This exciting international dance event will feature presenters from over 40 countries in a juxtaposition of old and new cultures – a fitting metaphor for the ways in which we are shaping dance now and into the future. The Summit will feature six key elements: a conference presenting keynote addresses, seminars and panel discussions; a daily sunset showcase performance; 36 international workshops for professional dance artists; Choreolab for four choreographers and 40 dancers from around the world; evening performances by local and visiting companies; and global assembly network meetings.
This year's Summit will have choreographers Robert Swinston, Germaine Acogny and Olivier Dubois present keynote addresses at the international conference. In addition, more than 200 presentations will be offered in total, including scholarly papers, panel discussions and performative presentations.
The daily sunset showcase performances will present over 30 short works by independent artists and pre-professional dance students. In the evenings, companies will perform works for Summit attendees, including the controversial Tragedie by Olivier Dubois, the celebrated Event by Robert Swinston and Duo by Amala Djanor.
Plus, there are many opportunities to take movement classes and workshops. Professional dance artists working in performance, education, community, youth and special interest areas can take part in their choice of 36 workshops. As part of Choreolab, four emerging and mid-career choreographers and 40 dancers from around the world will work intensively under the mentorship of CNDC Director Robert Swinston and Germaine Acogny, Director of École des Sables, International Centre for Traditional and Contemporary African Dances in Senegal. At the end of the Summit, there will be a public showing of works in progress.
Finally, WDA Global Assembly and Network meetings provide Summit attendees the opportunity to get involved and shape the future of World Dance Alliance.
The main site for the Summit will be the impressive contemporary Quai Forum des Arts Vivants theatre complex, situated on the banks of La Maine river and looking out on to the 13th century fortress that houses the extraordinary Tapestry of the Apocalypse – an artistic endeavour that continues to enchant, intrigue and astonish.
Registrations are now open for the 2014 Summit. Dance professionals can participate in this major international dance event by visiting the WDA Global Summit website and registering now.
Photo courtesy of World Dance Alliance.