2014 Telstra Ballet Dancer Award nominees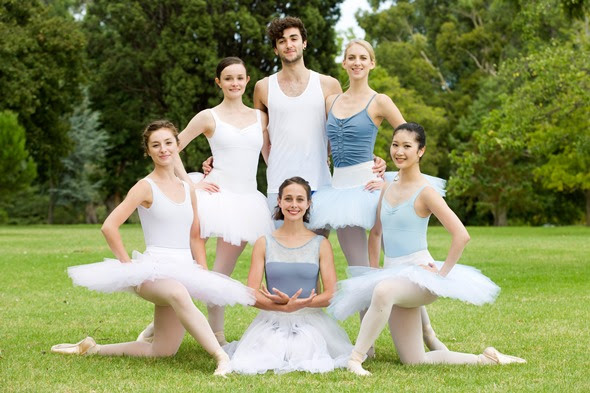 Six lucky dancers are in the running to win the most prestigious prize in Australian ballet, the Telstra Ballet Dancer Award. Nominations were announced onstage in Melbourne on Friday, March 7.
The 2014 Telstra Ballet Dancer Award (TBDA) nominees are Dimity Azoury (of Queanbeyan, ACT), Imogen Chapman (of Kelmscott, WA), Ingrid Gow (of Randwick, NSW), Cristiano Martino (of Adelaide, SA), Rina Nemoto (of Tokyo, Japan) and Jade Wood (of Cairns, QLD). The nominees were introduced to the public at the free outdoor event Telstra Ballet in the Bowl, before taking to the stage for a moonlit performance with the company.
"What a magical setting in which to announce this year's TBDA nominees. Since the Award was introduced in 2003, we've seen so many of our young dancers propelled to reach for the stars and realise their full potential thanks to Telstra's generous support," said The Australian Ballet's Artistic Director David McAllister.
This year marks a remarkable 30-year partnership between The Australian Ballet and its Principal Partner Telstra. Warwick Bray, Telstra's Group Managing Director, said the award aims to support and encourage the next generation of talent within The Australian Ballet.
"The announcement of our six nominees is a highly anticipated moment every year as it is an opportunity to recognise and reward young dancers for their hard work, talent and passion in this highly competitive and demanding industry," said Bray.
The Telstra Ballet Dancer Award has proved a launchpad for The Australian Ballet's brightest stars; six of the company's current principal artists are former winners of the award.
Last year, Coryphée Christopher Rodgers-Wilson from Camberwell, Victoria took home the top prize after dazzling judges with his beautiful performances. The vivacious dancing of Benedicte Bemet from Mackay was also recognised by audiences when she was announced winner of the coveted People's Choice Award.
This year's six nominees were judged on their performances throughout 2013, the development of their technique and their support of and collaboration with their fellow company members.
Announced at the end of the year in Sydney, the winner will be decided by a panel of judges comprised of representatives from The Australian Ballet, Telstra and the media, and will take home a generous $20,000 in cash. The winner of the People's Choice Award, decided by public vote, will receive $5,000.
Ballet fans can again follow the nominees' journey on Instagram this year through the hashtag #TBDA14. More information on the People's Choice Award competition will be available soon. Read more about the nominees below:
Dimity Azoury was born in Canberra in 1988. She grew up dancing in the footsteps of her grandmother, who was a beautiful dancer but was forbidden to dance professionally. Dimity joined The Australian Ballet in 2008.
Imogen Chapman was born in Kelscott, Perth in 1992 and began dance classes when she was just three years old. Imogen comes from a great sporting family: her father played cricket for Australia and two uncles played state hockey. Imogen studied at The Australian Ballet School as well as The Royal Ballet School in London.
Ingrid Gow was born in Randwick, Sydney in 1987. In 2004, she moved to New Zealand and studied at the New Zealand School of Dance before gaining a position with The Royal Ballet New Zealand. She has also toured in China.
Cristiano Martino was born in Adelaide in 1993 and started dancing at the ripe old age (by ballet standards) of 10 years old at the Barbara Jayne Dance Centre. Cristiano joined The Australian Ballet in 2013.
Rina Nemoto was born in Tokyo, Japan in 1991. At the age of 15, she moved to Paris to study at Centre d'art choreographique Franco-Japonais. In 2009, she joined The Royal Ballet as an apprentice dancer; she joined The Australian Ballet in 2011.
Jade Wood was born in Cairns, Queensland in 1991. She started dancing at her mother's ballet school at age three and lived in Portugal for a year when she was 10 years old. Jade joined The Australian Ballet in 2011.
Dance Informa joins The Australian Ballet to congratulate this year's nominees. Chookas for the year ahead!
Photo: From left, Imogen Chapman, Jade Wood, Cristiano Martino, Ingrid Gow, Rina Nemoto and Dimity Azoury. Photo by Paul Jeffers, courtesy of The Australian Ballet.