2014 Telstra Ballet Dancer Award Announced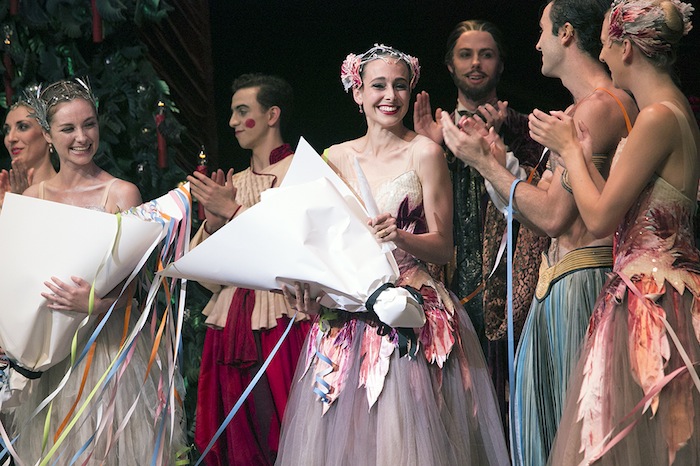 The Australian Ballet's Dimity Azoury has been crowned the 2014 winner of the Telstra Ballet Dancer Award (TBDA), the most prestigious prize for ballet in Australia.
In recognition of her outstanding achievements throughout the year, Azoury will receive a $20,000 cash prize from Principal Partner Telstra. Azoury was previously nominated for the award in 2012, and has now successfully taken out the title in the award's 11th year.
Born and raised in Queanbeyan, Canberra, 26-year-old Azoury joined The Australian Ballet in 2008 and has performed in New York and Toronto. She grew up dancing in the footsteps of her grandmother, who was a beautiful dancer but was forbidden to perform professionally.
The announcement was made by Telstra Group General Counsel Carmel Mulhern on stage at the Sydney Opera House following the company's final dress rehearsal for The Nutcracker in late November.
"This year marks a very significant milestone in The Australian Ballet and Telstra's story as we celebrate an incredible 30 years of partnership," Mulhern said. "One of the greatest successes in our partnership has been the establishment and legacy of the Telstra Ballet Dancer Award, which is dedicated to supporting the future of The Australian Ballet's rising stars. On behalf of Telstra, I'd like to congratulate Dimity on this incredible achievement."
David McAllister, the company's artistic director, also congratulated Azoury on her win.
"Dimity is a truly standout dancer. Her exceptional talent shines through in every performance and across her various contributions to the company. Dimity's dedication and passion make her the perfect overall package. She is a great example of the achievements that can be made through consistent hard work," said McAllister. "I'd also like to thank the other nominees for their sensational dedication and artistry throughout the entire 2014 season."
The $5,000 Telstra People's Choice Award, which was decided by public vote, was won by 22-year-old ballerina Imogen Chapman from Perth in Western Australia. The other four nominees this year were Cristiano Martino (Adelaide, SA), Jade Wood (Cairns, QLD), Rina Nemoto (Melbourne, VIC) and Ingrid Gow (Randwick, NSW).
The TBDA was introduced in 2003 to encourage young Australian ballet dancers to reach their full potential, and continues to be a calendar highlight for both The Australian Ballet and Telstra.
The award has helped catapult the careers of some of The Australia Ballet's brightest stars, with seven former winners being promoted to principal artist in the company following their award, including Matthew Lawrence (2003 winner), Amber Scott (2004), Lana Jones (2005), Daniel Gaudiello (2007), Kevin Jackson (2008), Ty King-Wall (2010) and Chengwu Guo (2011).
The nominees were judged throughout the year on both their on and off stage contributions to the company. This year's TBDA judging panel was formed by McAllister, Mulhern, Libby Christie (The Australian Ballet's Executive Director), Warwick Bray with Telstra, Livinia Nixon (a TV presenter with Nine News Melbourne) and Catherine Lambert (journalist with Herald Sun).
Audiences can see Azoury and Chapman on stage during The Nutcracker. For more information, visit australianballet.com.au. Also, see Azoury and Chapman in action in mini-documentaries produced by Telstra available at www.telstra.com/ballet.
Photo: Dimity Azoury accepting her award on stage after performing in The Nutcracker on November 28, 2014. Photo by Jess Bialek.