2014 International Dance Educators Workshop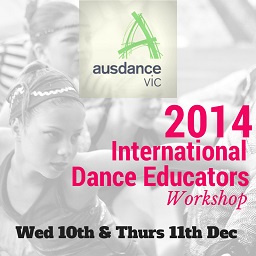 Ausdance Victoria will present the 2014 International Dance Educators Workshop on Wednesday and Thursday, December 10 and 11 at the Library at The Dock, located at 107 Victoria Harbour Promenade, Docklands. This workshop is designed for Primary and Secondary Dance Teachers, Generalist Teachers and Dance Practitioners to help build their skills in order to teach dance or to use dance to teach other subjects.
Teachers are invited to immerse themselves in this two-day interactive and practical workshop led by top dance educators. Participants will have many opportunities to network with other dance teachers, practitioners and artists while learning about dance composition, improvisation tools, strategies for senior students and various movement games for early years/junior students.
Workshop sessions will involve topics such as: All Boys Can Dance, Safe Dance Practice, Street Dance, Inspire and Motivate Students to Improvise, Improve Student Personal Movement Vocabulary, Student Centric Dance Teaching Strategies, Dance and Body Image, Art of Stretching, and Making Inclusive Teaching a Habit.
Attendees will also be able to purchase the latest in dance teaching and learning resources at a 20% discount.
To receive 25% off your ticket, purchase by November 14. If you do this, you will also receive a free book entitled "Learning Through Dance: A Guide for Teachers" valued at $35.
This Early Bird price for Ausdance Victoria Members is $140 and for non-members is $180. The full cost after November 14 for Ausdance members is $190 and for non-members is $230. For more information or to reserve your place at this workshop, visit http://www.trybooking.com/GGFA.