2013 West Australian Dance Awards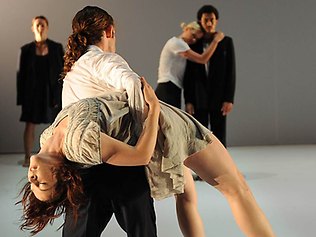 The West Australian Dance Awards (WADAs) recognise and celebrate the achievements of the West Australian dance community in the areas of performance, choreography, technology, service, teaching and community. The 2013 WADAs will be held at the Luxe Bar at the Bamboo Amphitheatre in Perth on Wednesday, November 27 at 6:30 p.m.
The list of finalists was recently announced. For the female category, the following women were named: Danielle Micich, a Performing Lines WA Core Artist; Emma Sandall, who has performed both internationally and locally with Béjart Ballet Lausanne, The Royal Ballet, Scottish Ballet and West Australian Ballet; and Jacqui Claus, WAAPA graduate, current Buzz Dance Theatre performer and 2010 winner of WADA's Emerging Artist Award.
For the male category, the following men were named: Brazil native Andre Santos, currently dancing with West Australian Ballet; James O'Hara, an international performer originally from Fremantle that has performed with Ballet Preljocaj (France), Ohad Naharin/Cedar Lake (New York), Matthew Lutton and Chrissie Parrott (Malthouse Theatre, Melbourne), The Australian Ballet/Gideon Obarzanek and Ross McCormack (New Zealand); and Kynan Hughes, WAAPA graduate, former dancer at Sydney Dance Company and current dancer working with Sue Peacock.
For the choreography category, the following choreographers were announced: Sue Peacock, previous WA Dance Award winner, for Reflect; Quindell Orton and Serena Chalker, directors of Anything Is Valid Dance Theatre, for Life in Miniature; and Emma Sandall and Cass Mortimer-Eipper for Fleck and Flecker, a critically acclaimed multimedia and dance production.
The other finalists that have been announced are listed below:
Design/Composition
Emma Sandall, Cass Mortimer-Eipper with Dan Gullaci (sound design), Christopher Petridis and Geoff Cobham (lighting design) and Nicola Smith and John White (set design) for Fleck and Flecker
Mia Holten for In This
Kynan Tan (sound design), Ben Taffe (visuals) and Craig McElhinney (musician) for Wintering
Regional
Sandi Woo for You Tube Me Dance
Danielle Micich, Annette Carmichael, Performing Lines WA and CircuitWest for the Shiver tour
Annette Carmichael for Solace and Yearning
Emerging Artist
Yilin Kong
Daniel Roberts
Jenni Large
Teaching
Ruth Bott
Angela Perry
Brianna Emily Wimbridge
Services
Peta Roby and Jason Gilkinson
Claudia Alessi
Lisa Honzarenko
Photo: Kynan Hughes, nominated as male finalist for a 2013 West Australian Dance Award, performing with Bernadette Lewis in Sue Peacock's Reflect, nominated as a choreography finalist in WADA 2013. Photo by Christophe Canato.