2013 Telstra Ballet Dancer Award Winner!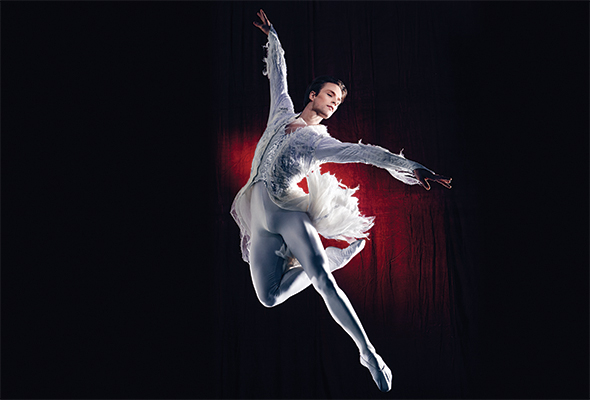 Chris Rodgers-Wilson has been crowned the 2013 winner of the Telstra Ballet Dancer Award (TBDA), receiving a $20,000 cash prize awarded by Principal Partner Telstra.
The win marks a triumphant homecoming for the 25-year-old from Camberwell in Victoria. Chris began his professional ballet career in 2007 dancing with the Birmingham Royal Ballet, before returning home in 2011 to join The Australian Ballet.
The announcement was made by Warwick Bray, Telstra Group Managing Director, on stage at the Sydney Opera House following the opening night performance of Alexei Ratmansky's Cinderella on November 29.
While presenting the award, Bray said, "Together with The Australian Ballet, Telstra has had the privilege of supporting and encouraging the next generation of dancers through this award for more than 10 years. On behalf of Telstra I'd like to congratulate Chris on this incredible achievement and we look forward to following his career closely for years to come."
David McAllister, Artistic Director of The Australian Ballet, also congratulated Chris on his achievement. "Chris really is the complete package as a ballet dancer; shining technique, onstage charisma and a strong offstage work ethic make for a winning combination. I'm so pleased we were able to lure him back from the UK to further develop his talents here at home," said McAllister.
"He is an inspiring role model for all young boys who are interested in dancing, demonstrating the great heights that can be reached with talent, hard work and determination. I'd also like to thank the other five nominees for their amazing dedication and artistry throughout the 2013 season."
The 2013 Telstra People's Choice Award and $5,000 cash prize were won by 19-year-old ballerina Benedicte Bemet, from Mackay in Queensland. The other nominees this year were Cameron Hunter, Natasha Kusen, Sharni Spencer and Valerie Tereshchenko.
For the first time in 2013, all six nominees used the social media platform Instagram to document their TBDA journey, amassing over 3,500 followers and delighting fans with a fascinating visual insight into their daily lives as ballet dancers.
The TBDA announcement is an annual highlight of The Australian Ballet's partnership with Principal Partner Telstra, who will celebrate 30 years as a Principal Partner in 2014.
Since the inception of the award in 2003, seven of the winners have ascended the company rankings to reach principal artist status, including Matthew Lawrence (2003), Amber Scott (2004), Lana Jones (2005), Daniel Gaudiello (2007), Kevin Jackson (2008), Ty King-Wall (2010) and Chengwu Guo (2011). The star-making aspect of the award is evident again this year – Chris was promoted to coryphée this year, beginning his climb up the ballet ladder.
Chris won the Telstra Ballet Dancer Award after being judged on numerous criteria over the course of the year. This year's TBDA judging panel was comprised of David McAllister (Artistic Director, The Australian Ballet), Libby Christie (Executive Director, The Australian Ballet), Danilo Radojevic (Associate Artistic Director, The Australian Ballet), Carmel Mulhern (Group General Counsel, Telstra), Ingrid Piper (Arts writer, The Daily Telegraph) and Helen Kapalos (Presenter, Today Tonight, Seven Network).
With the Sydney season of Cinderella sold out, audiences Australia-wide have the opportunity to experience Chris onstage in 2014. Season packages are available now from australianballet.com.au.
See Chris in action in the mini-documentary Ballet Men below or here.
Photo: Chris Rodgers-Wilson. Photo by Paul Scala.