2011 Helpmann Awards Nominees Announced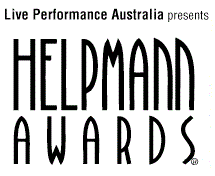 The annual Helpmann Awards recognise distinguished artistic achievement and excellence in the many disciplines of Australia's vibrant live performance sectors, including musical theatre, contemporary music, comedy, opera, classical music, theatre, dance and physical theatre. The Helpmann Awards also incorporates the JC Williamson Award for outstanding contribution to the Australian live performance industry.
The Helpmann Awards, named in honour of Sir Robert Helpmann and to commemorate his memory and achievements, were established in 2001 by Live Performance Australia (LPA) to recognise, celebrate and promote our live performance industry, similar to the Tony Awards on Broadway and the Olivier Awards in London.
For the full list of this year's nominees visit www.helpmannawards.com.au