Patrick Studios plans 2018 Full Time Auditions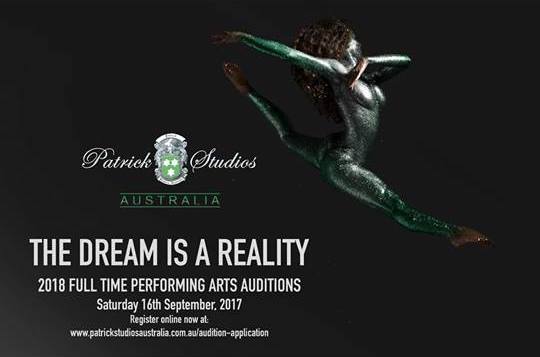 Patrick Studios Australia in Port Melbourne will hold auditions for 2018 intake to its full time dance courses on September 16 and in November. Courses include Full Time Performing Arts (Cert II, III, IV), Full Time Musical Theatre (Diploma) and The Academy – High School of Performing Arts (from year 7 to 12).
The Full Time Performing Arts Course auditions will be held this Saturday, September 16. Currently government assistance is available, so dancers interested in training in this course—known as one of the most successful Performing Arts courses in the country—should plan on being there in person. If accepted, they'll be invited to train in all styles of dance including jazz, ballet, contemporary, musical theatre, lyrical, tap and acrobatics, as well as group vocal lessons. They'll be able to enjoy onsite gym and Pilates training too.
Academy auditions were first held on June 30. Now the second round will be November 11. Academy students receive intense training from some of Australia's most outstanding industry practitioners, coupled with solid academic learning.
Then Musical Theatre auditions will be held from November. Directed by Australia's leading musical theatre choreographer, the musical theatre track is designed with premium acting and singing hours.
For more information, click here or visit www.patrickstudiosaustralia.com.au.
See Dance Informa's Full Time Dance & Auditions Guide to learn more about the best full time courses in Australia, New Zealand and New York.
---