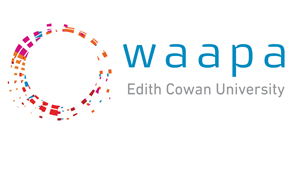 WESTERN AUSTRALIAN ACADEMY OF PERFORMING ARTS

Undergraduate Courses
CUA50113 Diploma of Dance (Elite Performance)
CUA60113 Advanced Diploma of Dance (Elite Performance)
Bachelor of Arts (Dance)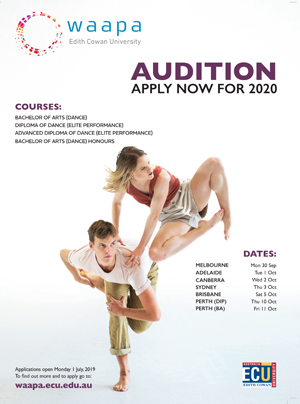 Postgraduate courses - Link Dance Company
Bachelor of Arts (Dance) Honours
Master of Arts (Performing Arts)
Course Details
WAAPA Dance programs prepare aspiring classical and contemporary dance students for a career as a professional dance artist. Our courses are designed to develop and refine a breadth of skill in each individual, encouraging them to pursue their chosen career path.
WAAPA Dance programs have a strong focus on teaching and learning, they are studio practice and performance based. Our fulltime and sessional lecturers bring significant professional expertise to daily tuition. Three performance seasons per year give students the opportunity to work with national and international choreographers. Recent guests include Rafael Bonachela, Helda Seabra, Richard Cilli, Natalie Allen, Lauren Langlois, Sasha Janes, Jayne Smeulders, Nils Christe, Amaury Lebrun and James O'Hara. In addition to performance, elective units offer students the opportunity to engage with a range of arts associated professions. Student contact hours average between 35-40 hours per week. Semester-long exchange and short-term international tours allow students to benchmark their skills with international peers, encouraging them to expand their learning within different cultural contexts.
WAAPA Open Day: Sunday 11 August, 10am-3pm at Edith Cowan University, Mount Lawley campus, Western Australia.


UNDERGRADUATE COURSES:
Diploma of Dance (Elite Performance): 1- year full time, entry by audition, VET National Course
Code CUA50113.
This nationally recognised qualification is the first year of our vocational dance program and leads into the Advanced Diploma of Dance (Elite Performance). The Diploma is focused on technical training, studio practice and performance.

Daily classes and performance rehearsals develop technical and creative skills in discipline areas of; ballet, pointe work, pas de deux, repertoire and solos. Associated areas of study include: contemporary, choreography, dance history, music for dance, fitness, yoga, anatomy and nutrition.
Advanced Diploma of Dance (Elite Performance): 1- year full time, entry by audition, VET National Course Code CUA60113.
This nationally recognised qualification is the second year of our vocational dance program. The Advanced Diploma addresses the needs of the dancer of the future by building the skills required for lifelong sustainability in the dance profession. Taking an holistic approach, this course refines the dancer's individuality, confidence and creativity.

Advanced technical and creative skills are developed in discipline areas of ballet, pointe, pas de deux, repertoire, solos and performance. Associated areas of study include contemporary, choreography, aerial skills, dance history, music for dance, kinesiology and performance psychology.

Upon completion of the Advanced Diploma of Dance, WAAPA offers the opportunity for students to progress into the Bachelor of Arts (Dance), for a third year of ballet-focused training.
Bachelor of Arts (Dance): 3 years full time, entry by audition.
The BA course has performance and classroom practice central to the program. Intensive and challenging, it caters for students who wish to lift their ballet or contemporary studies to a professional level. It encourages individuality encompassing broad career outcomes that include dance performance, choreography, education, research and arts administration.
Areas of study include contemporary dance, ballet, performance, choreography, dance history, music, acting, yoga, aerial, tumbling, Feldenkrais Method, alignment and body conditioning.
This course provides an insight into dance as an art form of social and educative importance. It develops skills in communication, critical thinking, research and analysis, and encourages students to pursue their particular area of creative interest.
The course offers a range of international exchange programs, secondment or industry placement with major Australian companies and participation in international study tours. Students perform in three major performance seasons each year, with a range of Australian and international choreographers.
The Bachelor of Arts (Dance) is an accepted prerequisite for Honours, LINK Dance Company, Masters and Doctoral programs in performance research, as well as for the Graduate Diploma of Education.
POSTGRADUATE COURSES - LINK DANCE COMPANY
LINK is a graduate dance company, the only one of its kind in Australia. Its purpose is to bridge the gap between university studies and professional practice. LINK aims to create compelling performers and to facilitate contribution to choreographic practice and process. Through LINK, dancers have the unique opportunity to gain professional experience, whilst also being able to further their research interests. Commissioned and re-staged works by seminal artists are performed locally, nationally and internationally.
Bachelor of Arts (Dance) Honours: 1 year full time, entry by audition/interview on successful completion of a Bachelor of Arts (Dance) course or equivalent course with a minimum 70% course average. Honours at WAAPA is offered in two modes: Company Research and Individual Research.
Company Research involves being a member of LINK Dance Company, undertaking 25 hours per week of practical dance classes plus an intensive rehearsal and performance schedule. Professional development includes an international performance tour and associated workshop experiences.
Individual Research enables outstanding students to learn and apply practical, theoretical and research skills in either or both creative (choreographic or other media) and scholarly areas of dance. The course involves learning in the theories of dance and related disciplines that underpin the basis of an examinable research project.
Master of Arts (Performing Arts): 2 years full time, entry by audition/interview and research project proposal. This program is offered in conjunction with LINK Dance Company. It enables candidates to explore concepts that extend the body of dance knowledge through contemporary dance practices and writing. Artists interested in developing their performance skills and choreographic voice in an exciting performance environment should apply.
This course is unique for its 'work place' learning model, embedding students in dance-making practice with world class teaching staff and national and international visiting artists. Performance is central to assessment, developing attributes that artistic directors and entrepreneurs seek in dance artists of the 21st century.
In the first year, students will take units in research preparation while undertaking technique class, rehearsal, production and national and international touring within a small company professional environment.
In the second year, students will be expected to develop an examinable research project which includes a written exegesis.
Prerequisite qualifications are either a BA with Honours (First Class or Upper Second) or BA with equivalent to Honours industry experience (at least three years). Each student will be interviewed and auditioned.

Main Teachers
Nanette Hassall (Course Coordinator/Lecturer), Kim McCarthy (Coordinator, Classical Dance), Andries Weidemann (Lecturer, Classical Dance), Justin Rutzou (Coordinator, Contemporary Dance), Michael Whaites (Lecturer and Artistic Director of LINK Dance Company), Sue Peacock (Acting Head of Dance/Lecturer).
Core Technique: Diana de Vos, Danielle Hunt, Jayne Smeulders, David Mack, Kynan Hughes, Claudia Alessi, Brooke Leeder, Rachel Ogle, Natalie Allen.
AUDITION DETAILS

WAAPA undergraduate dance auditions will take place in Melbourne, Brisbane, Canberra, Adelaide and Sydney:
Melbourne: Monday 30th September
Adelaide: Tuesday 1st October
Canberra: Wednesday 2nd October
Sydney: Thursday 3rd October
Brisbane: Saturday 5th October
Perth: (Dip) Thursday 10th October
Perth: (BA) Friday 11th October
Darwin: TBC – check website from 1st July
Auditions for Honours and Masters (LINK) courses will be held in Perth, Sydney and Melbourne. Please refer to the WAAPA website for precise dates and locations. www.waapa.ecu.edu.au
For Audition Requirements please refer to website. Applications are submitted directly to WAAPA. Admission is based on a comprehensive audition and interview. Online applications open 1 July and close 30 September.
Contact
Edith Cowan University
Mount Lawley Campus
2 Bradford St, Mount Lawley, WA 6050
Telephone: 134 ECU (134 328)
Email: futurestudy@ecu.edu.au