EV&BOW FULL TIME DANCE TRAINING CENTRE BACK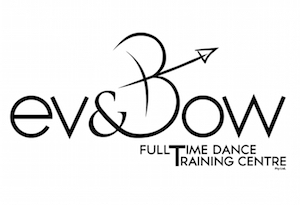 Course
Ev & Bow are qualified to offer the nationally accredited
CUA40113 Certificate IV in Dance (Contemporary / Classical & Performing Arts)
CUD50113 Diploma of Dance (Elite Performance)
CUA40313 Cert IV in Dance Teaching and Management

Course Details
Under the direction of Sarah Boulter and Lisa Bowmer, Ev & Bow has a reputation of supreme quality. It is the premiere studio for innovation, passion and outstanding results. Ev & Bow is leading the way in the dance Industry with cutting edge choreography and professionalism.


Ev & Bow selects exceptional dancers into a nurturing environment providing personal care and boasting limited class sizes. It is Ev & Bow's mission to provide quality training to enable the dancer to be a versatile and valuable member of the dance industry. To broaden their knowledge, creativity and respect for their craft.

Main Subjects
Classical ballet, contemporary, choreography, pas de deux, repertoire, jazz, commercial, acting, singing, musical theatre, acrobatics, hip hop, singing, drama, develop yourself as an artist, personal training and professional development.

Main Teachers
Sarah Boulter, Lisa Bowmer, Adam Blanch, Jessica Hesketh, Cathie Goss, Kate Larter, Cat Santos, Matt Antonucci, Billy Keohavong, Samantha Hines, Mathew Jenson, Tom Ragen, Neale Whittaker, Lucy Doherty, Anton, Julian Bonsar, Sela Vai, Alice Robinson, Ben Zammit and many more.
AUDITION DETAILS
Online & zoom auditions available. Please contact info@evandnow.com for further details.

Contact
Ev&Bow Full Time Dance Centre
(02) 9542 1260
info@evandbow.com
www.evandbow.com