AUSTRALIAN COMPANY OF PERFORMING ARTS BACK
Course
Certificate IV in Dance (CUA40113)CUA40113 (Certificate IV in Dance)
CUA40313 (Certificate IV in Dance Teaching and Management)
CUA50313 (Diploma in Dance Teaching and Management)
Course Details
Certificate IV in Dance
Wanting to take your dance to the next level? This qualification reflects the role of individuals working in a wide variety of dance performance industries. Students will be trained in a variety of different areas such as jazz, music theatre, commercial, vocal, acting, contemporary and so much more. You are always pushed and challenged to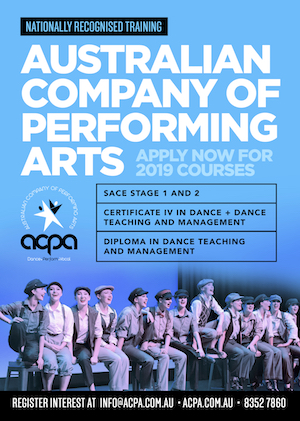 excel in all areas of your training. Our course is specialised to meet the training requirements of each individual student making everyone's dreams achievable.


Certificate IV and Diploma in Dance Teaching and Management
Ever thought about becoming a teacher? This course is perfect for any individual who has a passion for teaching and wants to excel their knowledge in this area.
The Certificate IV and the Diploma reflects the role of individuals working in a variety of dance teaching contexts. You will learn about all areas of teaching and how to develop your skills set as a teacher, as well as learning the ins and outs of running a business and how to manage live productions and performances.
Main Subjects
Our Certificate IV in Dance offers a wide range of subjects such as;
-Musical Theatre and Musical Theatre Expertise
- Fitness and Nutrition
- Audition Techniques
- Jazz, Tap, Contemporary, Ballet and Commercial
- Developing Choreography


Our Certificate IV and Diploma in Dance Teaching and management links with the Certificate IV in Dance as well as looking at a wide range of new subjects such as;
-Teaching
- Stage Management
- Injury Prevention
- Business Management
- Developing Safe Dance Practice
Main Teachers
Kim Grant-Taylor (Director – Jazz), Stephanie Thompson (Tap, Music Theatre), Pep Rigano (Commercial, Hip Hop), Meagan McLaren (Course Coordinator), Erin McKellar (Vocal).
AUDITION DETAILS
Australian Company of Performing Arts are holding an Open Day on the 8th of October 9am at our Thebarton Studio 37 Walsh Street. This experience gives students the opportunity to train full time for a day. For further information and a timetable for the day please email Alexis at alexis@acpa.com.au.
Contact
Address: 37 Walsh Street Thebarton
Email: alexis@acpa.com.au
Phone: (08) 8352 7860