DANCE SUPPLIERS - Music
Don't see your listing? Add it now…
DANCERS MARKET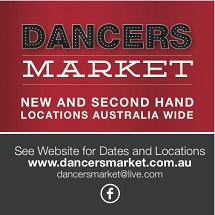 Supplier Types: Books & Periodicals, Cosmetics, Costumes, Dancewear, Fabrics, Footwear, Music
Comments: The Dancers Market is your one stop shop for everything Dance. Made for Dancers, run by Dancers the market events cover QLD, NSW, VIC, WA & ACT. New & Second Hand Stalls are available for hire and with over 30 stalls at every location, you will find everything you need for competitions, concerts, exams and classes. Join us at a market event in your area.
State: Australian Capital Territory, New South Wales, Queensland, Victoria, Western Australia
Location: Po Box 33 Sanctuary Cove QLD 4212.
Contact:
p) 0404 847 866
w) www.dancersmarket.com.au
e) info@dancersmarket.com.au
OSDS Online.com
Supplier Types: Dancewear, Footwear, Costumes, Accessories & Gifts, Fabrics, Cosmetics, Music, Marketing
State: New South Wales
Location: Online Dancewear Marketplace
Contact:
e) admin@osdsonline.com
Don't see your listing? Add it now…