Yellow Wheel's Dance Project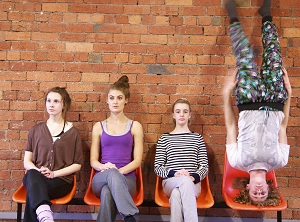 Yellow Wheel Centre for Youth Dance is a new initiative founded by Adam Wheeler and Jessie Oldfield, with a vision to create a space for Victorian youth to practice contemporary dance. As Victoria's newest centre for youth dance, Yellow Wheel provides the opportunity for young dancers to experience contemporary dance in a supportive and constructive environment.
Yellow Wheel are holding a unique workshop. It's A Dance Project will be a one day workshop run by Adam Wheeler to make a short contemporary dance work to be performed that night. The dance work titled Eight Hours Later will be performed alongside a sneak preview of Yellow Wheel's first work Dance Robot Dance and performances by 2nd Toe Dance Collective. Young dancers between the ages of 12-26 are welcome to be part of this exciting event and no dance experience is necessary.
The workshop will be held at The Space Dance & Arts Centre on Sept 16. For registration and/or ticket booking visit www.thespace.com.au/shows-on-at-the-space