World's Biggest Ballet Class Charity Event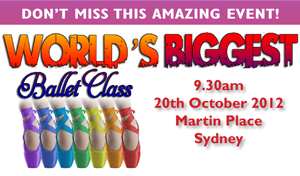 The world's biggest ballet class, taught by The Australian Ballet's Lucinda Dunn, is to be held on October 20, 9:30am at Martin Place, Sydney as a charity fundraiser. The event will raise money for the children who attend the ballet school in the Italian town Mirandola, which has been devastated by an earthquake.
With the amazing support of The Australian Ballet all the money raised will go directly to the deserving children from this school to create a dance space for them to train in again.
Lucinda Dunn will be teach a port de bras class, followed by a talk on her career with The Australian Ballet.


It will cost $10 to participate, there will be commemorative T-shirts to buy, prize draws and a whole lot more! Come dressed up in your favourite ballet gear.
For more information and to register email rebeccapaws@hotmail.com.