Win prize from International Ballet Workshops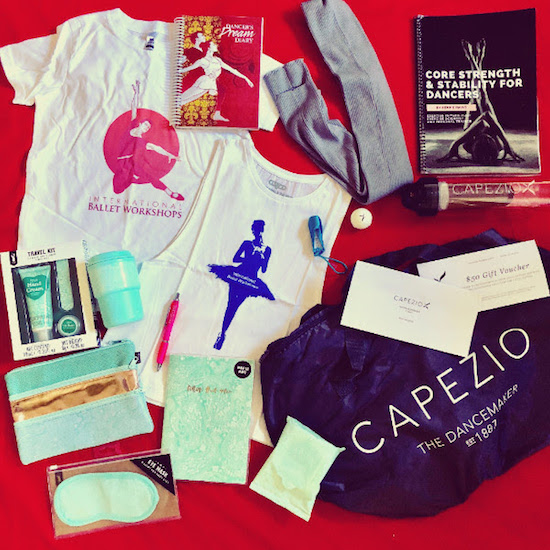 Are you already registered for the International Ballet Workshops Winter 2018 "Classics to Contemporary" Series? The tour schedule includes The Perth School of Ballet from July 1-3, Melbourne Academy of the Arts from July 6-8, Brisbane's Australian Dance Performance Institute from July 11-13, The Conlan College in Sydney from July 16-18, and Dance 24Seven in Auckland, NZ from July 20-22.
If you register for a workshop by midnight on March 19, you will go in the draw for some fabulous prizes! As the saying goes, the early bird gets the worm – or in this case, the chance to win one of these stellar prizes:
- A private lesson with international guest teacher, Nadia Thompson.
- A $50 voucher + bag + legwarmers + water bottle + lip balm + mini pointe shoe - courtesy of Capezio.
- A signed copy of Core Strength & Stability for Dancers by Kerrie Haines.
- A gorgeous Typo gift set - courtesy of DanceSurance.
- A male or female International Ballet Workshops tee.
- A Dancer's Dream Diary from International Ballet Workshops.
To enter, register at www.internationalballetworkshops.com. (If you're already registered, you're already in the draw!)
IBW Director Rain Francis said, "There are four gorgeous and inspirational teachers on the line-up for the Winter Series, and lots of amazing opportunities to be had. We can't wait to see you there."
Also, note that the gorgeous new Dancer's Dream Diary, and summer singlets for guys and girls are now available to order too. View the range at internationalballetworkshops.com/collections/merchandise.
International Ballet Workshops is proudly supported by Dance Informa, Capezio and DanceSurance.
Image courtesy of International Ballet Workshops.
---