Who wants to road trip to VDF 2018?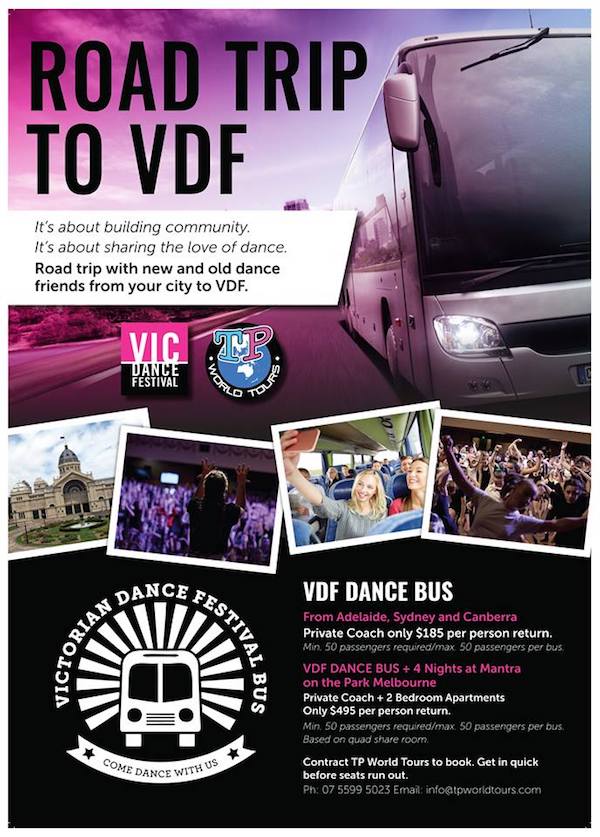 The Energetiks Victorian Dance Festival has just announced the VDF Dance Bus from Adelaide, Sydney and Canberra! Dancers can now road trip to VDF in Melbourne with new and old dance friends!
Deborah Searle, founder and managing editor of Dance Informa, commented, "VDF is a different dance event. It is purely about the joy of dance and building the dance community. So we thought, wouldn't it be beautiful if dancers from all over Adelaide, Sydney and Canberra could road trip to VDF together? It would be like dance camp! We all make amazing new friendships on camp."
Searle, who now co-directs VDF, continued, "The VDF bus is our way of encouraging dancers to come together—no matter what studio or dance style—and make new friends on the way."
Founded in 2012, VDF has developed and flourished with the support of the Australian dance community. In 2017 VDF came to Melbourne and packed out the Melbourne Town Hall. Lines to enter went out the door, around the corner and far down Collins Street. The staff at Melbourne Town Hall said it was the biggest event they had ever seen at the venue.
For 2018, VDF is moving to the larger, historic Royal Exhibition Building in Carlton Gardens to host an estimated 6,000 dancers. The festival will provide workshops for students, studio owners, and teachers. Teachers Day is officially set for February 16 and Student Workshops will be February 17 and 18.
"VDF is a national dance event. Just because it happens in Victoria doesn't mean it's for Victorian dancers only. VDF is for everyone, and this special bus service can make it easier and more affordable for our dance neighbours in other states to join in the fun," shared VDF Founder and Co-Director Kate Meade.
Book your seats on the VDF Dance Bus before they run out! Contact TP World Tours at info@tpworldtours.com or phone 07 5599 5023. A round-trip ride on the Private Coach is only $185 per person. Dancers can also book a special package that includes the Private Coach ride and a two-bedroom apartment for four nights at Mantra on the Park Melbourne for $495 per person.
TP World Tours' Jodi Deighton said, "The Victorian Dance Festival's core purpose is to bring dancers from all over Australia and the world together to learn, develop and grow - no competitions, no judgement but a place for the dance community to come together and celebrate everything dance! By putting together the VDF Dance Bus, TP World Tours is excited to provide the opportunity for dancers outside Victoria to not only attend the Victorian Dance Festival, but provide a unique experience for studios to travel together, road trip style, making life long friends along the way. Now the event starts with the journey, on board the VDF Dance Bus!"
Visit www.victoriandancefestival.com for more information on the festival.
---