Ultimate Dance Kits for dancers!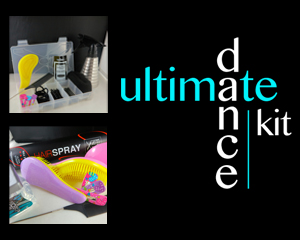 Ultimate Dance Kits is a one-stop shop for dancers, offering all the products dancers need and saving them the fuss of having to go to different locations to find them.
With more than 60 years of experience in the dance industry as dancers and teachers, the team behind Ultimate Dance Kits is experienced and knows what dancers need. Providing kits designed by dancers for dancers, Ultimate Dance Kits seeks to provide performers and students a place to order all their dance product needs.
The shop features dance bags and boxes, brushes and combs, hair pins and bands, numerous accessories and jewelry, make-up and lashes, styling products and tools, and even tights and socks. The only products not available are actual dancewear and costumes.
The ultimate goal of Ultimate Dance Kits is to help dancers create and keep stocked their own individual dance kits, filled with all their favorite products and dance accessories. And the best part? The products are affordable and the shipping is free!
For more information, visit www.ultimatedancekit.com.au/index.php.