This Week's Spring Dance Treat: Correria Agwa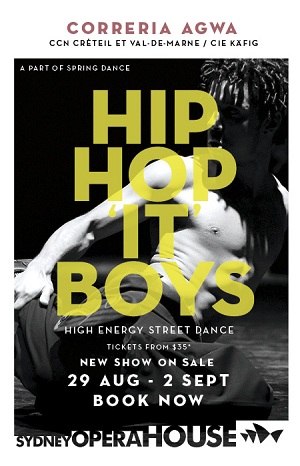 August 29- Sept 2: There's an explosion of energy as 11 Brazilian dancers from the slums of Rio de Janeiro break, pop, lock and waack their way across the stage in these two distinct yet complementary works that have won over both critics and audiences worldwide.
Intense and joyful, Correria (Running) celebrates the physicality of endurance and the pleasure of speed, while Agwa (Water) explores the beauty and power of the planet's most essential resource as the dancers backflip, weave and somersault their way between hundreds of water-filled plastic cups on stage.
Compagnie Käfig founder and Artistic Director Mourad Merzouki discovered the Brazilians at the Lyon Dance Biennale in 2006 and immediately saw how they could perfectly express his inventive fusion of hip-hop, circus and martial arts. The result is exuberant, athletic and uplifting – the best of street dance, brought to the theatre.
Correria Agwa is part of Spring Dance 2012, curated by Rafael Bonachela from Sydney Dance Company.
See the full program