The Space hosts an Open Day and Audition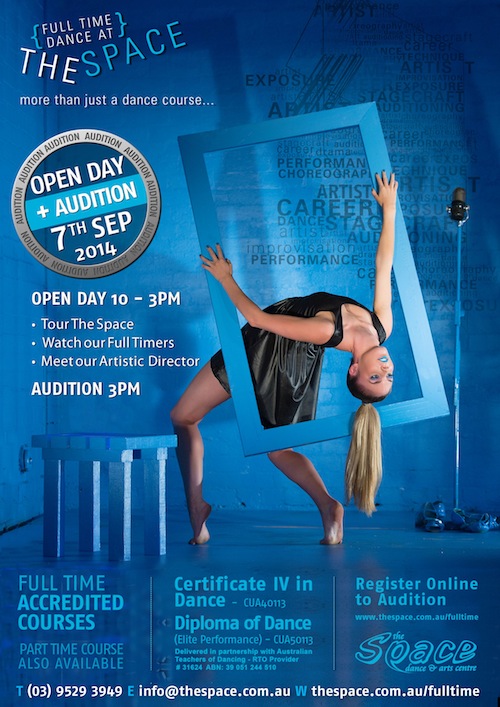 Full time dance at The Space in Melbourne is more than just a dance course and dancers are invited to see why on Sunday, September 7 when the studio hosts an Open Day.
Open Day is the perfect opportunity for dancers considering full or part time dance studies to drop in and ask questions, see the facilities and meet current students. Attendees will be able to watch current full timers behind the scenes, plus tour The Space and chat to Artistic Director Adam Wheeler.
Interested dancers can visit anytime from 10 a.m. to 3 p.m. and those who want to apply for 2015 entry can audition at 3 p.m.
According to The Space, their students learn from the best local and international dancers, choreographers and producers there are to offer. Students have the major opportunity to establish connections and create contacts within the commercial dance scene through their studies.
Full time dance students will choreograph, devise and produce their own dance performances as well. Overall, they will learn the skills needed to thrive as a dancer, performer and artist in addition to receiving a Certificate IV in Dance or Diploma of Dance (Elite Performance.)
Headed up by Wheeler, The Space's world-class faculty includes Deb Cantoni, Ariel Bud, Kim Adam, Yvette Lee, Michael Ralph, Ross Hannaford, Stephen Agisilaou, Oleg Timursin, Nikki O'Shea, Kalman Warhaft, Etienne Khoo, Simon Storey, Eden Read, Sara Grenfell, Sarah Croser and Frankie Snowdon.
For more information on Open Day or to register to audition, visit www.thespace.com.au/fulltime. Interstate and international applicants can audition via YouTube. Call 03 9529 3949 for further details.
See Dance Informa's 2015 Full Time Dance & Auditions Guide to learn more about the best full time courses in Australia, New Zealand and New York.