'The Oracle' comes to Adelaide in August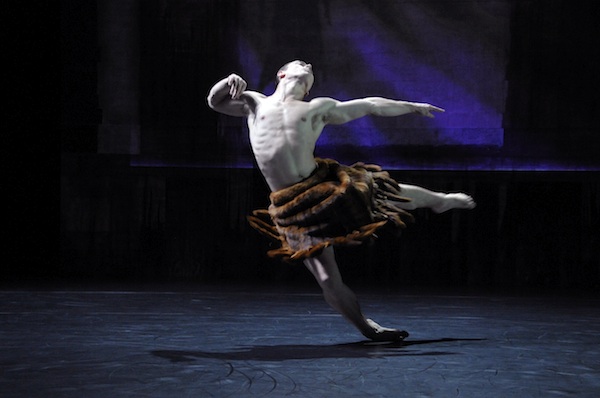 A powerful, critically-acclaimed dance work, The Oracle comes to the Dunstan Playhouse for its Adelaide premiere for four shows only on August 20-23.
A sensual and intense dance work by celebrated choreographer Meryl Tankard, The Oracle has appeared in Europe, the UK and USA to critical acclaim. Featuring one of Australia's most acclaimed dancers, Paul White, The Oracle explores the conflicting forces of nature and man, masculinity and femininity, violence and nurturing, infusing the work with strength and vulnerability and White's muscular intensity.
The Oracle is set to Stravinsky's seminal composition for the infamous ballet The Rite of Spring, which caused riots at its Paris premiere in 1913. The intensity of the subject, the power of the complex and rhythmic musical score, and the stark and brooding aesthetic deliver an atmosphere of coiled-spring emotions and conflict in this haunting and critically acclaimed work.
As one of Australia's iconic directors and choreographers, Meryl Tankard has produced some of the most compelling and affecting dance works in the country and worldwide, touring a rich repertoire of work. She began her career as a dancer with The Australian Ballet then joined Pina Bausch's Wuppertaler Tanztheater. She has helmed her own company as well as Australian Dance Theatre, and since 2000 has worked freelance on projects including the 2000 Sydney Olympics' Opening Ceremony.
Paul White is one of Australia's most highly regarded dance artists. As a performer and artistic collaborator, he has worked with some of the genre's most renowned choreographers and directors, including Lloyd Newson (DV8 Physical Theatre), Tanja Liedtke, and Garry Stewart (ADT). Paul has been recognised five times by the Australian Dance Awards and the Helpmann Awards as a performer and choreographic collaborator.
The Oracle has toured previously to the USA, Switzerland, France and throughout Australia to rave reviews, and also received "Best Choreography" and "Outstanding Performance by a Male Dancer" at the 2010 Australian Dance Awards.
Dance Informa's Nicole Saleh reviewed The Oracle in September 2009 during performances at the Sydney Opera House. She wrote, "Meryl Tankard's The Oracle takes you on a thought-provoking journey and delivers an enthralling work that pushes the boundaries of modern dance today."
For more information on Adelaide performances of The Oracle, visit adelaidefestivalcentre.com.au.
Photo: Performer Paul White in Meryl Tankard's The Oracle. Photo by Regis Lansac.