The Australian Ballet's 'Out There' Program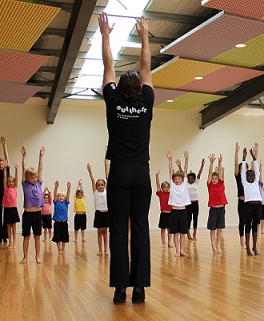 Imagine classrooms of children across Australia learning to dance, taught by an expert member of The Australian Ballet's Dance Education Ensemble. Imagine young girls who love ballet but have never been to a live theatre performance, sports-mad boys who think dance is not for them, working with professional dancers from The Australian Ballet, from Warrnambool to Townsville.
These scenes are now becoming a reality for thousands of children across Australia, with the support of Samsung Electronics Australia as the new 2014 Presenting Partner of The Australian Ballet's Out There program.
To much anticipation and excitement, the program Out There – The Australian Ballet in schools began last month. The three-year partnership with Samsung will enable The Australian Ballet to expand its commitment to dance education, and just this year, the Out There program will visit 80 schools. The partnership will also allow students from remote and marginal schools to experience Out There, giving many their first experience of dance and performance.
According to a report published by the Australian Council for Educational Research, children who participate in arts experiences like Out There are more likely to perform better academically, stay in school longer, have a higher self-esteem and engage more with learning.
The Executive Director of The Australian Ballet, Libby Christie, said children around Australia would benefit greatly from the alliance. "It's wonderful that a market-leading global brand such as Samsung is committed to supporting both the arts and education programs. This partnership enables The Australian Ballet to develop the scope of our education program Out There, and at the same time, has the potential to deepen our engagement with schools and Australian children through the use of Samsung's cutting-edge technology."
Christie continued, "We're thrilled to be partnering with Samsung in a program which has such a positive impact on the schools involved."
The Out There program began in 2006. Since then, more than 50,000 children nationwide have taken part in fun learning workshops led by the "DEE", a group of four Dance Education Ensemble members made up of two male and two female presenters. The DEE are all professional dancers, selected through a competitive audition process by The Australian Ballet's Artistic Director David McAllister, who teach children about dance, ballet, artistic expression, movement and fitness.
"Samsung is excited to be the lead partner and naming-rights sponsor of Out There – The Australian Ballet in schools," said Arno Lenior, Chief Marketing Officer, Samsung Electronics Australia. "For more than 40 years Samsung has contributed to efforts that touch people's lives, promoting personal development and helping people to uncover their potential."
Future plans for the partnership may include using digital technology to facilitate even more schools' participation in the Out There program.
For more information on the Out There program, visit www.australianballet.com.au.
Photo: St Kilda Primary School students participating in Out There program. Photo by Fiona Howat, courtesy of The Australian Ballet.