The Australian Ballet in two programs in May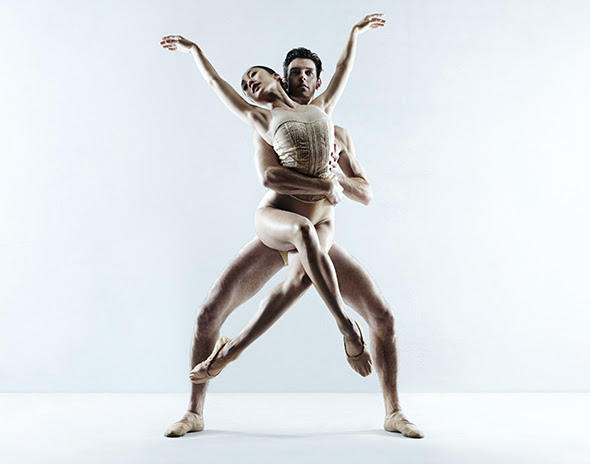 Sydney audiences are in for a choreographic explosion this May when The Australian Ballet unleashes Chroma, a thrilling charge of live dance featuring the music of Mozart, Tchaikovsky and a rearrangement of alt-rockers The White Stripes. It will be complemented by the New York style and Parisian chic of double bill Imperial Suite.
The program Chroma makes its Australian debut at the Sydney Opera House on April 29 and Imperial Suite on May 2, before both travel to Melbourne in June.
The Artistic Director of The Australian Ballet, David McAllister, said the two productions, which will be performed in rep, offered something for everyone.
"Audiences have the rare opportunity to see the work of three of the world's most exciting choreographers of the day in Chroma, a sophisticated blend of classical and contemporary dance," McAllister said. "Those who prefer a more traditional approach will be dazzled by the glittering technique of Imperial Suite that allows our dancers to flaunt their word-class talent."
The program Chroma presents an electrifying mixed bill that brings together works from three multi-award-winning choreographers – Wayne McGregor's heart-pumping Chroma, Jiří Kylián's complimentary works Petite Mort and Sechs Tänze, and a brand-new creation from Resident Choreographer Stephen Baynes, Art and Sky.
The Australian premiere of McGregor's Chroma is chock-full of the British wild-child's signature energy and attack. With a buzzing cinematic score by Joby Talbot and musical arrangements by Jack White III of The White Stripes, the dancers push their bodies to their extremes. Contrasting with McGregor's colourful choreography is the all-white minimalist set by architect John Pawson and flesh-coloured costumes in subtle muted tones designed by Moritz Junge.
Renowned for his groundbreaking collaborations across dance, film, music, visual art, technology and science, McGregor created Chroma in 2006 for The Royal Ballet, winning a Laurence Olivier Award for Best New Dance Production as well as a Critics' Circle Award.
Sharing the bill with Chroma is Jiří Kylián's "Mozart Double", Petite Mort and Sechs Tänze – contemporary ballets meshed with the classical sounds of Mozart. Created to commemorate the second centenary of Mozart's death, Petite Mort ("little death") is set to two of Mozart's most popular piano concertos and features a playful use of props – from fencing foils to Baroque ball gowns that glide across the stage with the dancers.
As the light-hearted and humorous counterpart to Petite Mort, the slyly comic choreography of Sechs Tänze has the dancers writhing on the floor, contorting their bodies and making use of flexed feet. Channelling the style of Mozart's day, the work features men in powdered wigs and beauty spots and is set to the composer's Sechs Deutsche Tänze (Six German Dances).
Complementing this diverse program is the world premiere of Art and Sky, a new work from Resident Choreographer Stephen Baynes and his first since the sell-out production of Swan Lake.
Art and Sky takes inspiration from one of Tchaikovsky's lesser-known scores, Mozartiana – a loving-tribute to Tchaikovsky's idol Mozart and written for the centenary of his opera Don Giovanni. Uncluttered by narrative, the dancers use movement to allude to the worlds that Tchaikovsky's music evokes, from an 18th -century court, preserved in time, to the Romantic era of the 19th century.
This mixed program will be presented in Sydney for 10 performances from April 29–May 17 at the Joan Sutherland Theatre at the Sydney Opera House, with accompaniment provided by the Australian Opera and Ballet Orchestra. The program will then be presented in Melbourne for 10 performances on June 6–14 
at Arts Centre Melbourne, with accompaniment provided by Orchestra Victoria.
The program Imperial Suite will counterpart the contemporary program by offering more traditional movement and balletic choreography. George Balanchine and Serge Lifar's 1940s neoclassical showpieces Ballet Imperial and Suite en blanc are the perfect complement to the contemporary masterworks of Chroma, showcasing clean lines, thrilling pointe work and a distinctive elegance.
The double bill Imperial Suite will be presented in Sydney for nine performances on May 2–17
at the Joan Sutherland Theatre at the Sydney Opera House, with accompaniment provided by the Australian Opera and Ballet Orchestra. Then it will be presented in Melbourne for nine performances on June
20–28 at Arts Centre Melbourne,
with accompaniment provided by State Theatre with Orchestra Victoria.
Balanchine's Ballet Imperial is a tribute to his Russian heritage and a display of pure classical brilliance. Set to a passionate Tchaikovsky score, the ballet is infused with the splendour of 19th-century Russia, and Hugh Colman's midnight-blue, gold-accented tutus imbue the dancers with an aristocratic grace and nobility. Ballet Imperial is a sumptuous tutu ballet and one of Balanchine's heralded masterworks.
Suite en blanc is a one-act ballet that allows the dancers to showcase their talents in a series of thrilling crescendos. Dozens of ballerinas in snowy white tutus adorn symmetrical staircases, and inventive corps de ballet patterns frame solos, duos and trios. This internationally acclaimed neoclassical showpiece was created by French choreographer Serge Lifar for the Paris Opera Ballet in 1943 and named it after its myriad of all-white tutus. It remains his most well-known work, and Lifar personally revived the original for The Australian Ballet in 1981, more than three decades after his first visit to our shores with the Ballets Russes in 1939.
For more information on either of these programs, Chroma or Imperial Suite, visit www.australianballet.com.au.
Photo: Natasha Kusen and Andrew Killian in Chroma. Photo by Paul Scala.