Tango-inspired 'M¡longa' to open in Sydney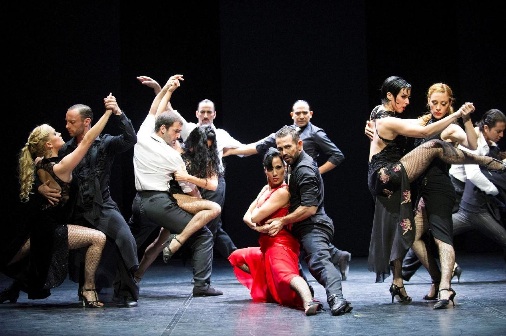 Sydney Opera House and Etihad Airways will present an exclusive season of the tango-inspired M¡longa by celebrated contemporary dancer and choreographer Sidi Larbi Cherkaoui in the Joan Sutherland Theatre this week, running June 12-15. This new production from Sadler's Wells explores the social and choreographic vocabulary of tango.
Jonathan Bielski, Director of Programming at Sydney Opera House Presents, said, Sidi Larbi Cherkaoui is "undoubtedly one of the most exciting artists in the dance world today." He continued, "His genre-crossing spectacles Sutra and Dunas were highlights for dance lovers in 2010 and 2012, and I am delighted to share his new tango collaboration M¡longa with Sydney audiences."
Sidi Larbi Cherkaoui is a Sadler's Wells Associate Artist. Internationally renowned for his ground- breaking and critically revered productions with artists including Akram Khan and Maria Pagès, and for his award-winning works such as Sutra (presented in the opera house's spring 2010 season) and Babel (presented at the 2012 Sydney Festival), he has created more than 20 productions and is widely acknowledged as one of Europe's most exciting choreographers.
Deeply rooted in Argentinean culture, tango has fascinated and captivated the world with its sexuality, power and beauty. It is this unique appeal that has drawn Cherkaoui to create M¡longa. He says, "What attracts me most about tango is the eternal embrace of the dancers. When a tango couple dances, we sense the hypnotic dialogue between two bodies connecting intuitively, merging into one. If there is such a thing as my style of dance, it is rooted in touch, in physical contact – and that is inherent in tango."
Taking the idea of M¡longa – social dance parties held in intimate late night bars in Buenos Aires – as its starting point, Cherkaoui draws on traditional influences and adds a contemporary twist. This is the first time an international large-scale production inspired by tango is directed by a non-Argentine artist, offering exciting opportunities to explore the traditional dance from another cultural perspective.
M¡longa features new music from Argentinean composer Fernando Marzan and Cherkaoui's long-term collaborator Szymon Brzóska, video and set design by Eugenio Szwarcer, costumes by renowned fashion designer Tim Van Steenbergen, lighting by Adam Carrée and sound by Gaston Briski. Tango expert Nelida Rodriguez de Aure is an artistic consultant for the production. M¡longa is performed by a cast of 10 tango dancers from Buenos Aires, two contemporary dancers and a tango band of five musicians.
To book tickets to this exclusive Sydney season, visit www.sydneyoperahouse.com.
Photo courtesy of M¡longa.