SYTYCD Top 12 Performances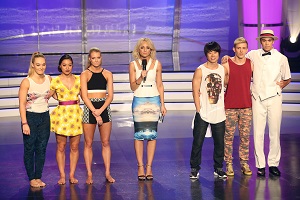 Thursday marked a significant day, as it would be the last opportunity for the judges to cast their vote on who should be left in the competition. From next week onwards, the dancer's fate will be left in the hands of the public. The bottom six announced for this week were Maddie, Renelle, Lauren, Blond, Stephen and Patric. As usual each gave their all with outstanding performances. However unfortunately it was time to go for Maddie and Stephen. But first let's get back to the duo and group performances for this week.

Eden and Renelle were the first to take to the stage for a Broadway jazz number, choreographed by Adam Williams, and performed to 'Mr Bojangles'. This piece required the dancers to tap into memories and provide a real connection to the character. Through the rehearsal footage Eden found it hard to form a connection to the character and was relying on Renelle to help her. However on stage, Eden was able to find a connection and what resulted was a beautiful performance. Aaron was simply speechless, describing the seamless transitions within the piece, and referring to it as 'magic'. Jason also agreed with Aaron describing this particular partnership as beautiful.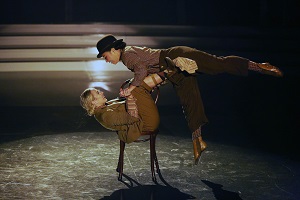 Next was Jay and Patric in a popping and locking piece, choreographed by former So You Think You Can Dance contestant Charles Bartley, and performed to 'Give It Up Or Turn It Loose' by James Brown. This seemed to be a great piece for Patric as it was also a comedic routine with both dancers acting as janitors. It was energetic and a great form of entertainment. Shannon thought they both killed it but to just work on making the wrist twists more defined. Paula didn't expect any less from what the boys delivered and was impressed with their double pirouette on the mop, which acted as a prop throughout the number.

Maddie and Ashleigh performed a contemporary number to song 'Higher Love' by James Vincent McMorrow and choreographed by Jason Winters. The piece delved into the love between two people and required the dancers to be able to share that connection with the audience. As Maddie was in the bottom six, this piece required her to really give her all, but unfortunately it fell short with the judges. Jason wasn't sure as to whether this partnership worked and Aaron felt that technically the dancers were there but something was lacking.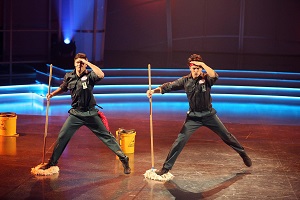 UK singing sensation Gabrielle Aplin took to the stage with her International hit 'The Power of Love' which was a beautiful and moving piece, leaving everyone in the audience affected by her amazing voice and talent.

Zoey and Lauren performed an urban piece by another former So You Think You Can Dance contestant and brother to Joel Rasmussen, Jesse Rasmussen. The girls were required to become high school characters that were graduating from Year 12. Dancing to the song 'Boyz' by M.I.A, there was a great playfulness to this number. Shannon found it was a great commercial hip hop piece but was concerned as to whether it went to the next level, however commended the dancers on paying attention to detail in the movement.

Blond and Michael were by far the standout performers on the night. Teaming up with choreographer Debbie Ellis for a contemporary number, the dancers were required to imitate bird like characters and become involved in a 'battle for survival'. Performing to the song 'How It Ends' by Devotchka, the boys delivered an impressive number resulting in a standing ovation. Aaron described the piece as being superb with the boys matching each other perfectly. Paula couldn't believe that Blond was in the bottom six, and Jason commended Debbie Ellis on finding the best common denominator between the two and creating such a perfect piece.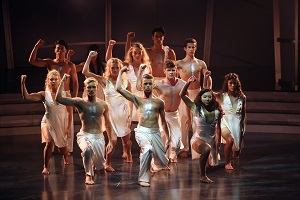 Sam and Stephen were the last of the duo performances for the night, where Sam fell short for this number. Performing a tango piece to 'Assassin's Tango' from the Mr and Mrs Smith soundtrack, Stephen was the standout performer in this number. Shannon enjoyed the piece but was worried that Sam was beginning to fall behind the pack. Paula agreed with Shannon in that Sam doesn't seem to be embodying the styles and perhaps peaked too early in the competition. Jason found it to be a great routine and thought it was Stephen's defining moment in the competition. Unfortunately it was his last as he was eliminated this week. At least he left on such a high note!

The Top 12 group performance was a beautiful and moving contemporary piece to 'Strong' by London Grammar, and choreographed by Rafael Bonachela from Sydney Dance Company. This was a great opportunity for Maddie as she would love to one day work for Sydney Dance Company, and thoroughly enjoyed the opportunity to work with one of Australia's most esteemed choreographers.

Next week we see another change up in the competition with a new partnership between the dancers yet again. As the weeks fly by, one thing is certain: it's anyone's game.

Photos courtesy of Shine Australia.
---