SYTYCD Grand Final & Result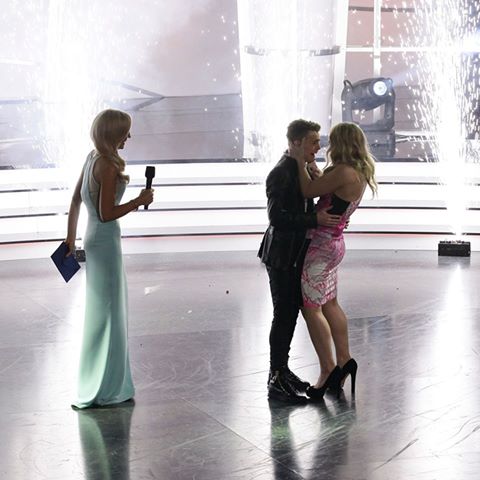 What a night! We were treated to performances by the top four, numerous guest performances and a return of the top twenty to the stage.

Starting off the night was the top twenty in a Lady Gaga number choreographed by The Squared Division. The piece was visually appealing with the use of black and white screens, and it pretty much felt as if you were watching one of Gaga's music videos.

Lauren and Michael took to the stage to perform a moving contemporary number, choreographed by Debbie Ellis. This was a particularly challenging piece for Debbie to choreograph, as her father only just passed away. The piece involved Lauren representing the nursing care required for her father, and Michael represented her father after having had a stroke. Making this piece difficult during rehearsal was that Michael had to be blindfolded for the first half of the performance. On stage, the dancers had you glued to them; their technical ability was incredible.

Jay and Michael performed a martial arts, contemporary inspired routine, with the use of swords. Choreographed by Sarah Boulter, the piece was dynamic, captivating and highlighted both dancers' incredible strength and ability. The piece represented a duel and in a sense also represented the competitive nature of dancers in such a competition. All judges agreed that Jay's growth in the competition has been phenomenal, and no matter what happens from tonight's result, he will go on to have a great career.

Jay and Renelle took the stage for a ballroom number that proved to have a few mishaps. Choreographed by Aric and Masha, the storyline involved a couple where the female wanted to leave the relationship yet the male was still in love and holding on. Renelle's dress proved to be a great challenge as it started to come off throughout the performance, and on a few lifts it appeared that Jay nearly lost grip of Renelle. Despite these few mishaps, it was an entertaining piece.

Lauren and Renelle performed an empowering jazz number, choreographed by Matt Lee. Starting off in the crowd, the girls performed in the aisle and then made their way to the stage for an energetic routine. The piece celebrated their position as the top two female dancers in the competition, and it was pretty much hard to fault anything.

Guest performances for the night included Jason Derulo with his latest hit 'Wiggle', Sam Smith with 'Stay With Me' and Ed Sheeran with 'Sing'. We were also treated to a reunion by The Tap Dogs with judge Aaron Cash taking to the stage. It was great to see Dein Perry back on stage for an entertaining number.
Paying tribute to judge Paula Abdul, the top 20 performed a jazz routine to a medley of her hits, choreographed by Matt Lee. You couldn't really say there were any standout performers, as each brought their best to the stage.

Announcing Lauren and Michael were still in the running to become Australia's Favourite Dancer, unfortunately it was time to go for Renelle and Jay. Both thanked the SYTYCD team, dancers, friends, family and fans.

Before the final results were announced, the top 20 performed a Latin dance number by Jason Gilkison. It was explosive, highly entertaining, and showcased what a talented group of dancers we have in Australia.

Soon after it was time to announce whom Australia wanted to crown as their favourite dancer. Congratulations to Michael on winning the coveted title!


Photo source: www.facebook.com/SYTYCDAU
---