Sydney Dance Co & McDonald College announce 2nd intake for new program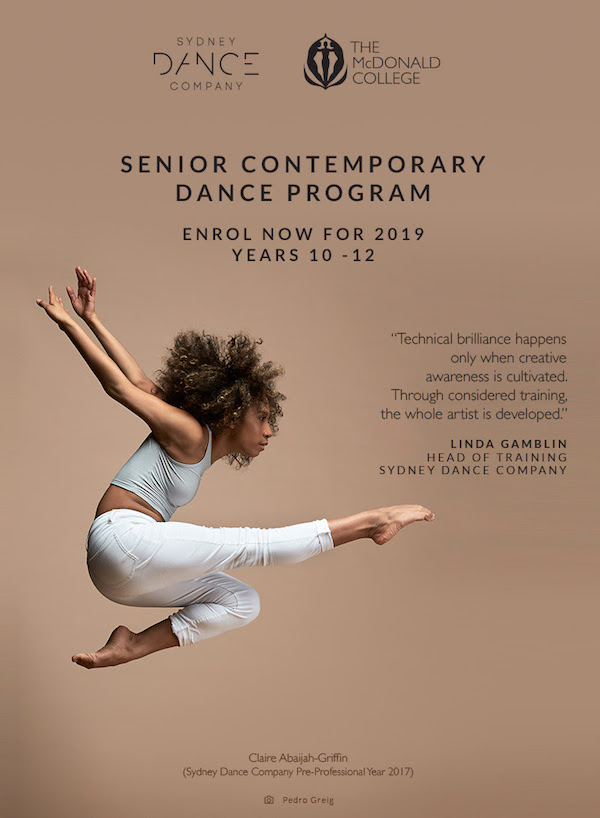 A second intake has been announced for Sydney Dance Company's new Senior Contemporary Dance Program at The McDonald College. Due to high demand, a second intake has been announced for those interested in joining its 2019 program, which is open to students in Years 10 - 12 wishing to develop into creative, forward-thinking contemporary dance artists.
Guided by the ethos of Sydney Dance Company, The McDonald College will offer students the opportunity to engage all aspects of Contemporary Dance training and academic studies, inclusive of the NSW Higher School Certificate.
"Currently, secondary dance students in NSW have no option to study elite contemporary dance training whilst remaining at school, and often they leave prematurely before finishing their studies in order to attend full-time dance training institutions. This program will allow students to continue their academic schooling whilst receiving world-class contemporary dance training, including obtaining their NSW Higher School Certificate," commented Maxine Kohler, principal and founding member of The McDonald College.
Auditions for the 2019 Senior Contemporary Dance Program will be held in November 2018 at The McDonald College in North Strathfield, Sydney. Registrations for Intake 2 close this Friday, November 2.
For enquiries, call (02) 9752 0507 or email registrar@mcdonald.nsw.edu.au. Visit www.mcdonald.nsw.edu.au for more information.
Photo: Sydney Dance Company Pre-Professional Year 2017 artist Claire Abaijah-Griffin. Photo by Pedro Greig.
---