Strictly Ballroom and Baz Luhrmann Looking for Dancers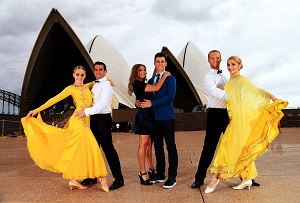 To celebrate the imminent Opening of a truly Sydney musical, Strictly Ballroom The Musical (previewing from 25 March), Baz Luhrmann has collaborated with Global Creatures and Destination NSW to create STRICTLY SYDNEY, the largest outdoor ballroom dancing event ever seen in Australia.

This spectacular community event with 4,000 ballroom dancers will be held around the Sydney Opera House on Sunday 23 February from 9am.

Anyone can register now at www.thetelegraph.com.au/strictlyballroom to be involved in STRICTLY SYDNEY. This is a once in a lifetime opportunity with a chance to perform on the forecourt of the Sydney Opera House in the biggest ballroom dance-off of all time under the creative direction of Australia's own Baz Luhrmann.

This exciting event will be captured in an exclusive aerial shot, showcasing the impressive display of thousands of dancers in vibrant costumes outside one of the world's most iconic buildings.

A ballot will be drawn to select the 4,000 dancers from all the registrations that come in. The ballot will be drawn on Monday 10 February and winners will be notified on Wednesday 12 February via email.

Thomas Lacey, who will play Scott in Strictly Ballroom The Musical and Phoebe Panaretos who will play Fran will both be present at the Sydney Opera House on the day


By registering one lucky couple will win:
– An original matching dance ensemble designed by Catherine Martin.
– Tickets to the World Premiere of Baz Luhrmann's Strictly Ballroom The Musical on Saturday 12
April at the Sydney Lyric Theatre at The Star.

20 runners up will win:
– 2 tickets to see a preview of Strictly Ballroom The Musical on Thursday 10 April at the Sydney
Lyric Theatre at The Star.

Every participant will receive a digital download of the official STRICTLY SYDNEY event aerial photograph.

In addition each couple will also be given a fabric square with matching numbers on them – a unique commemorative patch designed by Catherine Martin which is pinned to the back of each dancing couple.

All details about the event day including arrival times, duration, choreography and costuming you will need to bring will be confirmed closer to the event date after the ballot has been finalised.

Be a part of this amazing event that will be created by Baz Luhrmann!