Starpower leads Ultimate Dance Workshops!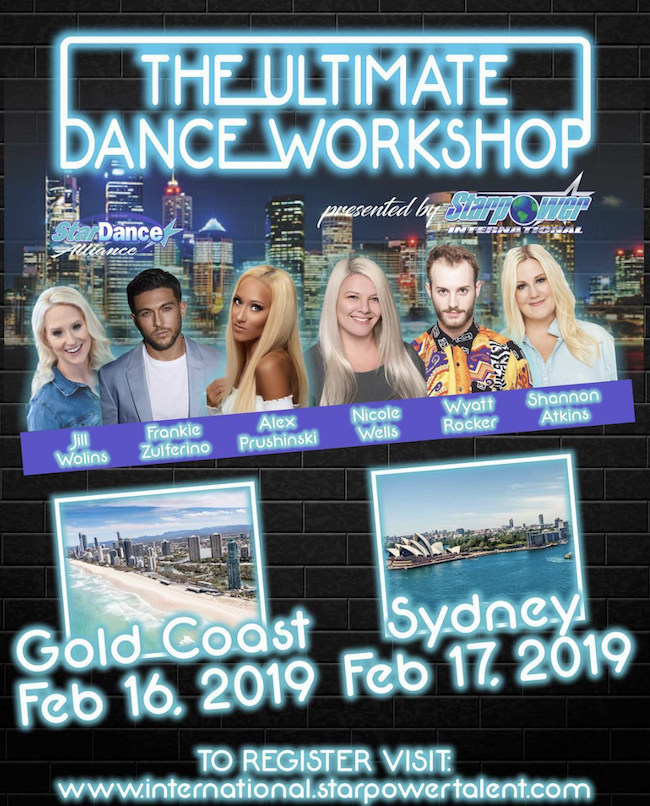 Gold Coast and Sydney, get ready! Starpower International is bringing its Ultimate Dance Workshop to you this weekend!
The Ultimate Dance Workshop was started to motivate, educate and inspire a new generation of young dancers. It's one-day event focuses on classes, not competition. This season's faculty includes Jill Wolins, Frankie "FJ" Zulferino, Alex Prushinski, Nicole Wells, Wyatt Rocker and Shannon Atkins. They'll lead classes in Contemporary, Lyrical, Jazz, Hip-Hop, Tap and much more.
Starpower International's Ultimate Dance Workshop promises to have something for everyone. "We believe in providing dancers with amazing instruction, cutting-edge choreography, all while making sure the focus is on the students!" explains Starpower International's website.
The Gold Coast workshop will be held Saturday, February 16 at Dance Force Dance Studio, located at 1/23 Enterprise Avenue in Tweed Head South, NSW 2486. Sydney's workshop is set for Sunday, February 17 at Bankstown Sports Club, located at 8 Greenfield Parade, Bankstown, NSW 2200.
Workshop attendees will see apprentices assisting faculty throughout the day. These apprentices were just announced by Starpower International after the organization had an open call for dancer entries. These first-ever Ultimate Dance Workshop Apprentices will each receive a full scholarship to the event and a free apprentice t-shirt. Plus, each apprentice will also receive a full scholarship to the the World Dance Pageant in NYC!
Gold Coast Senior Apprentices include Lewis Shilvock and Tara Bajan, and Teen Apprentices include Eva Chapelle and Lydia Ragonesi. Sydney Senior Apprentices include Siena Uremovic and Conor BM, and Junior Apprentices are Evie McGarry and Isabelle Falcon.
According to Starpower International, submissions were "so incredible" for its assistant contest that it had some finalists. Each finalist will receive a $500 scholarship to Power Pak in America! The Gold Coast finalists include Joshua Williams, Ava Toms and Aaliyah Stannard. The Sydney finalists include Isabella Roberts, Danni Cook, Isabella Spiteri, Cameron Gaw, Nicola Keady and Tiana Vassallo.
The Ultimate Dance Workshop is giving away a lot of scholarships at its Gold Coast and Sydney events as well. Excitingly, new apprentices will be chosen at the end of the workshops for the following year.
For more information, visit www.ultimatedanceworkshop.com/WDI-Register.aspx. Register before it's too late!
---