Short+Sweet Dance opens this week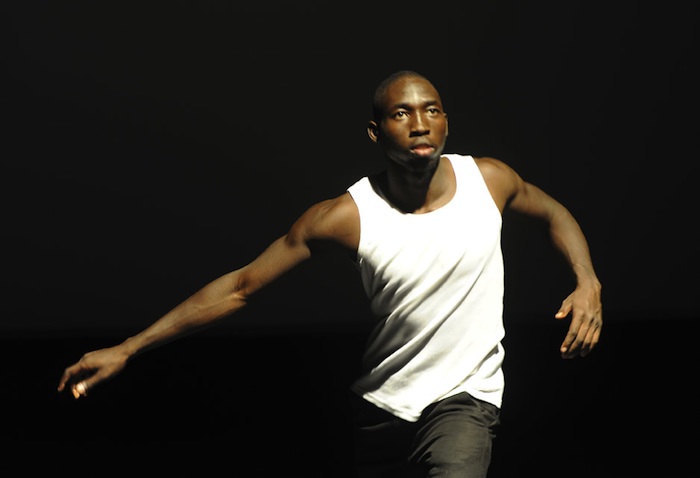 Short+Sweet Dance returns to Sydney from this Wednesday, January 22, with two weeks of tasty short performance bites featuring the best of local and interstate talent.
With more than 40 original pieces and films divided into four companies, Short+Sweet Dance will have each piece/film perform twice. Week One's Company A will perform opening night (Wednesday, January 22) and again on Thursday, January 23.
Company A will feature: Graeme Spencer's Traces, which features Spencer and dancer Renelle Jones; Dances in an Almost Classical Mode, a work that brings high-profile choreographer and mentor Martin del Amo together with super-talented youngster and African immigrant Abuzar Abdelrahim; Meeting Point, a unique insight created by former Ugandan Lucky Lartey that investigates what happens when two bodies represent the inner workings of one; and Triumvirate of Wit, Imogen Cranna's saucy contemporary dance piece that ridicules past and present chauvinism through the prism of 17th century literature.
In addition, Company A will present Young Indigenous Marrickville dancer Theo Cassady's memory, a piece about the highs and lows of life, and Gemma Trotter's contemporary dance Retratos De Frida, an examination of suffering, sexuality and solitude inspired by the life and artwork of Mexican artist Frida Kahlo.
Company B will be presented on Friday and Saturday, January 24 and 25. It includes: Canberra dancer Alison Plevey's Lachlan, inspired by time living with a central western NSW family; Nerida Godfrey's Woomba, a reimagining of home deriving from the mispronounciation of 'wunderbar'; Sink or Swim by Natalie Pelarek, a hilarious group dance mentored by Kay Armstrong; and Courtney Turvey's Serenity, featuring Tibetan singing bowls.
In addition, Company B will feature: Wollongong choreographer Eva Crainean's Girl Getting Bitter, a dance about women seeking revenge for abuse by the patriarchal society; Tom Woodman in his own work One Side to the Other; and Mating Rituals by Amy Mauvan with Jesse Quaid, featuring 25 dancers.
Other Week One highlights include: Melbourne dance film Foiled Again; NAISDA choreographer Paulina Quinteros' Latin Threads; ex-Israeli dancer-choreographer Maya Gavish's Microcosm; Kirsty Fromholt's And Then Patterns; and Kei Ishii's Fast+Fresh award-winning group piece A Memory.
Next, the festival's Companies C and D will perform the second and final week at New Theatre, climaxing with the festival's Gala final performances on Sunday, February 2 at 2 p.m. and 7:30 p.m.
Company C will be presented on Wednesday and Thursday, January 29 and 30. The program features: Newcastle artist Hayley Raw's solo piece No, I Would Never, a work about that devilish voice in your head that leads you astray; September, a contemporary fusion piece choreographed by Mathew Mizyed of Dancing Under the Influence; Jodie Ewing's We Step, which features her dancing alongside Cersha Burn, Jess Butler, Laura Jackson, Merryn Reid and Amanda Wihare; May I Please?, Brisbane-based Courtney Scheu's first collaboration with Brazilian-born dancer Mariana Paraizo; and Tessellate, a work by international choreographer and teacher Jason Winters about innocence, confidence and maturity as three women are drawn into a relationship.
Company D will be presented on Friday, January 31 and Saturday, February 1. It includes: Rochelle Carmichael's award-winning Out of No Thing, a series of solos, duets and trios that explores layers of gesture, unpredictable pathways and spatial relationships; No Fungus, No Tree, the combined work of Sean Marcs and Anna Healey; Hard-Boiled Wonderland, Victorian Amber McCartney's movement study inspired by two Japanese surrealist novels; Now Behold the Lamb, a theatrical piece set in a Pentecostal church; and On My Own Terms, featuring the collaboration of Caterina Mocciola and Jay Bailey in a contemporary dance and structured contact improvisation using props.
Other Week Two highlights include: a Ros Wythes' piece; Natasha Crane's 30-dancer group piece Swingdancin'; and Jay Bailey's Jaybird, a lighthearted dance about birds.
The Short+Sweet Dance Gala final will take place on Sunday, February 2 at both 2 p.m. and 7:30 p.m. It will feature the best of the festival. Visit www.shortandsweet.org for more information or to book tickets.
Photo: Dancer Abuzar Abdelrahim in Dances in an Almost Classical Mode, a work that will be presented in Company A at Short+Sweet Dance 2014 on Wednesday, January 22 and Thursday, January 23. Photo courtesy of Short+Sweet Dance.