Shaun Parker & Co. tours 'Happy as Larry'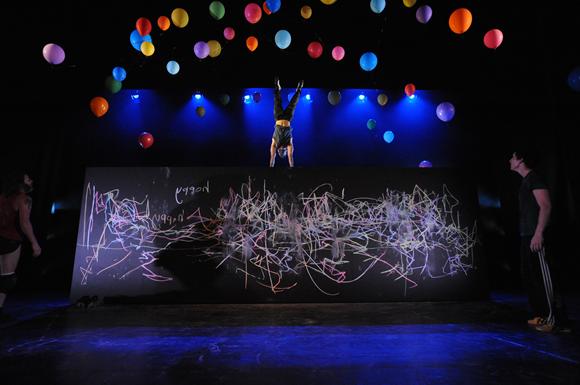 After an astonishing UK tour, Shaun Parker & Company will be beginning their two-month-long Australian tour of Happy as Larry in Orange, before travelling to selected regional venues in NSW, VIC, SA, NT and WA.
Happy as Larry is a funny, playful and poignant new dance show, which investigates the elusive nature of human happiness. Created by award-winning Australian choreographer Shaun Parker, this powerful performance combines an intoxicating mix of ballet, breakdance, roller-skating and highly physical contemporary dance.
The cast of characters is developed from the Enneagram, a psychological system that maps nine personality types: the Perfectionist; the Giver; the Performer; the Tragic Romantic; the Observer; the Devil's Advocate; the Optimist; the Boss; and the Mediator – all rich inspiration for Shaun Parker's insightful creativity. Set to a vibrant electro/acoustic score, the performers bring fun and danger to the fore in this innovative and moving dance work.
On Happy as Larry, the Sydney Morning Herald said, "It's smiles all round – on stage and in the audience. You have to welcome a dance piece about happiness… delightful." The Times UK echoed that it was a "highly enjoyable production," saying, "Parker always has something up his sleeve."
In July, the tour will commence at the Orange Civic Theatre on July 10 and then visit Civic Place Newcastle on July 12-13, Bathurst Memorial Entertainment Centre on July 17, The Cube on July 20, Griffith Regional Arts Centre on July 24, Mildura Arts Centre on July 27 and Warragul Performing Arts Centre on July 31.
In August, Happy as Larry will tour to Northern Rivers Performing Arts Centre, Frankston Performing Arts Centre, Gasworks, Adelaide Festival Centre, Darwin Festival, Albany Entertainment Centre and even visit the Strut Dance Professional Development program. To round out the tour, the production will go to Mandurah Performing Arts Centre and Seymour Centre
in September.
The Australian Government is associated with this tour through the national performing arts touring program, Playing Australia, which gives Australians across the country the opportunity to see some of the best performing arts. This project has been assisted by the government's Major Festivals Initiative, managed by the Australia Council for the Arts and the Australian Government Arts and Advisory Body.
The tour is a part of Dance on Tour, a program supporting four Australian dance companies to nationally tour a full-length work in 2013. The other three companies are Australian Dance Theatre, KAGE and Expressions Dance Company, which is just concluding its tour of Natalie Weir's R&J. The overall goal is to market, attract and build new audiences for dance.
For more information on the Happy as Larry regional tour dates, visit danceontour.com.au.
Photo courtesy of Dance on Tour and Shaun Parker & Company's Happy as Larry.