Save on registration for Come Together!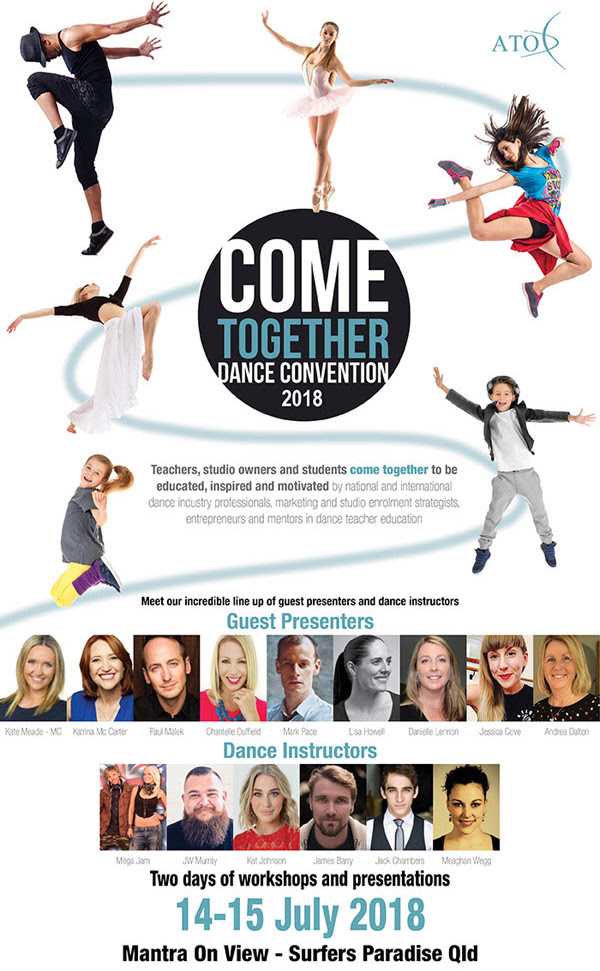 Come Together Dance Convention returns July 14 and 15 to the fabulous Mantra on View in Surfers Paradise, Gold Coast. This convention provides dance teachers, studio owners and students with opportunities and tools to grow and learn from national and international leaders and guest speakers in dance teacher education. Delegates will attend dynamic, informative, personal and practical education sessions in a nurturing and positive environment.
With the theme "Educate, Inspire, Motivate", this stirring, informative and fun dance event will leave every participant feeling passionate and confident to take their dance to greater heights.
To register, visit www.atod.net.au. There are various options: Teacher/Studio Owner Programme Full Registration, Student Programme Full Registration, or One Day Only Registration. Excitingly, Dance Informa subscribers are now entitled to a 10% discount when using coupon code CTDCINFORMA10!
Guest presenters for Come Together Dance Convention 2018 are Kate Meade, Katrina McCarter, Paul Malek, Chantelle Duffield, Mark Pace, Lisa Howell, Danielle Lennon, Jessica Cove and Andrea Dalton. Dance instructors include Mega Jam (Jasmine Meakin and Luis Pinto), JW Murray, Kat Johnson, James Barry, Jack Chambers and Meaghan Wegg.
This two-day convention is strategically placed on the weekend of July 14 and 15, when all states of Australia are on school holidays.
Sign-in and last minute registrations will commence at 7 a.m. both days, with workshops beginning at 8 a.m. For further information and enrolments, visit www.atod.net.au.
**Don't forget to use the exclusive Dance Informa discount to save 10% when registering! The coupon code is CTDCINFORMA10!
---