Royal New Zealand Ballet's 'Made to Move'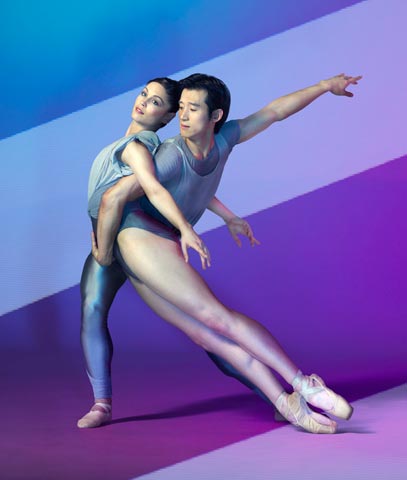 After performing to critical acclaim in Takapuna and Palmerston North earlier this month, the Royal New Zealand Ballet (RNZB) is leaving the North Island to venture to Dunedin and Canterbury. In the company's newest program, Made to Move, viewers can see Javier De Frutos' The Anatomy of a Passing Cloud, Andrew Simmons' Of Days and Ethan Stiefel's Bier Halle.
Reviews from the previous on-tour performances are posted and the media sphere is abuzz. The Dominion Post's Ann Hunt described Made to Move as "a night of spirited dancing in entertaining, thought provoking and beautiful works," while the New Zealand Herald's Bernadette Rae was especially taken by The Anatomy of a Passing Cloud and Of Days, describing Javier De Frutos' work as "brilliantly, breathtakingly performed" and Andrew Simmons' choreography as "beautiful, rich in pattern, rise and fall, with a series of gorgeous cameos on a subtly manipulated stage."
In Bier Halle, RNZB Artistic Director Ethan Stiefel creates his first original work for the company, a spirited comedy set in a Bavarian inspired beer hall. Producing laughter and showcasing virtuoso technique, the whole company whirls away to the waltzes and polkas of Johann Strauss II and Josef Strauss.
Next, in Of Days, former RNZB dancer Andrew Simmons, Christchurch-born and now living and working in Dresden, creates the eagerly awaited follow-up to 2010's haunting A Song in the Dark. Drawing on New Zealand's wide-open landscapes and set to the gentle minimalism of music by Dustin O'Halloran, Ludovico Einaudi and Olafur Arnalds, this new work is a very special experience for dancers and audience alike.
For The Anatomy of a Passing Cloud, Venezuelan choreographer Javier De Frutos creates a new piece inspired by the Pacific with musical influences encompassing everything from traditional chants to the vintage harmonies of the Yandall Sisters. As the choreographer of the RNZB's award-winning Milagros (2003), The Celebrated Soubrette (2004) and Banderillero (2006), De Frutos' work arrives with anticipation. As an artist, he continues to challenge the boundaries between the worlds of ballet, contemporary dance and musicals.
RNZB's first South Island stop on the Made to Move tour is this coming Wednesday, 20 March, at the Regent Theatre in Dunedin. With only one show, dance enthusiasts are encouraged to buy tickets soon. To book, they can call 03 477 8597. Student discounts are also available.
Next, Made to Move finishes on 23-24 March with three performances at the Ashburton Trust Event Centre, including a Sunday afternoon matinee. Book at Ticket Direct or by calling 03 307 2010.
Following the current tour, RNZB will dive straight into rehearsals for Giselle. The dancers leave for China on 5 April to share Ethan Stiefel and Johan Kobborg's production with audiences in Suzhou, Shanghai, Beijing, Tianjin and Guangzhou.
For more information on RNZB's Made to Move tour or upcoming performances, visit www.nzballet.org.nz.
Photo: Dancers of the Royal New Zealand Ballet perform Andrew Simmons' Of Days. Photo courtesy of RNZB.