Royal New Zealand Ballet tours 'Giselle'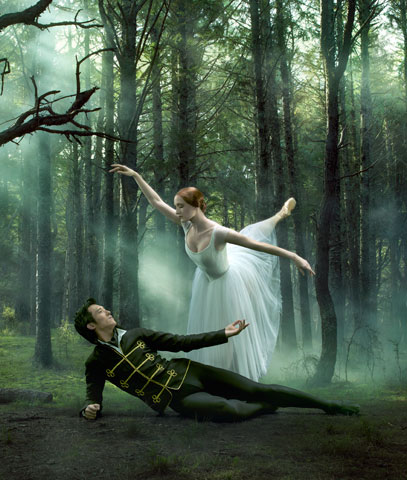 A high-profile new staging of Giselle, performed by the Royal New Zealand Ballet, is currently on a seven centre tour.
Ethan Stiefel, RNZB Artistic Director, is co-producing The TelstraClear Season of Giselle, with Johan Kobborg, internationally acclaimed Principal Dancer of London's Royal Ballet.
"In addition to being an exceptional dancer and actor, Johan is a gifted choreographer, who has created productions for both The Royal Ballet and the Bolshoi, amongst other renowned companies," Stiefel said.
"Giselle is one of the great Romantic ballets, and it's truly inspiring to collaborate with my good friend. We are delighted to have the chance to present our version of a ballet we both know very well," Stiefel added.
Both Ethan Stiefel and Johan Kobborg are noted performers of the leading male role in Giselle: Albrecht, who betrays the innocent village girl Giselle and causes her death, only to be protected by her spirit beyond the grave.
Prima ballerina Gillian Murphy, RNZB Principal Guest Artist and star of American Ballet Theatre, is dancing the role of Giselle. In her extensive dance career, Murphy has never before danced this role, known to be one of the most demanding and dramatic of the classical ballet repertoire.
Wonderfully passionate, Giselle is a story of how the power of forgiveness and redemption can overcome the anguish of love and betrayal. The story unfolds against the ghostly backdrop of a forest haunted by 'Wilis': vengeful spirits of abandoned brides.
First staged in Paris in 1841, Giselle is one of the oldest surviving ballets still in the international repertory. The music by Adolphe Adam (1803-1856) is one of the first full-length ballet scores ever to be composed.
The score was performed live by the Vector Wellington Orchestra in Wellington and will be again in Auckland by the Auckland Philharmonia Orchestra and in Dunedin by the Southern Sinfonia. Music is being conducted by leading British conductor Michael Lloyd.
Russian ballet dancer turned costume designer Natalia Stewart designed the costumes. She trained at the London College of Fashion and has collaborated with Johan Kobborg before on several of his productions. American scenic designer Howard C. Jones created a picturesque village and eerie graveyard settings, while New York lighting designer Kendall Smith lite the production.
"This is the company's first staging of Giselle since 2006 and Ethan has assembled a hugely gifted creative team to showcase our talented dancers. Giselle includes some of the most beautiful and iconic scenes from the classical repertoire and I'm sure all audience members will be moved by this emotional love story," said Amanda Skoog, Managing Director.
The TelstraClear Season of Giselle kicked off Nov. 7 in Wellington. The next tour locations include Invercargill, Dunedin, Auckland, Rotorua, Napier and Palmerston North. The performance's approximate running time is two hours including one interval. For more information, visit www.nzballet.org.nz. Tickets start at $37.
The Royal New Zealand Ballet was founded in 1953 and is now based at Wellington's St James Theatre. The ballet is an intrinsic part of New Zealand's national heritage, and has the largest following of all New Zealand performing arts companies.
Photo courtesy of The Royal New Zealand Ballet.