RNZB presents bright new ballets this winter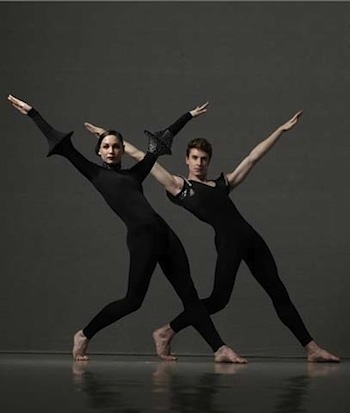 In what will be the Royal New Zealand Ballet's last season under Ethan Stiefel's artistic direction, Allegro: Five Short Ballets is a powerhouse of extraordinary and diverse ballets from some of the world's leading choreographers.
Opening in Auckland on July 30 ahead of a six-centre tour, the new programme is described by Stiefel as a showcase of the breadth of ballet styles.
"This programme features a world premiere from New Zealander Daniel Belton; two pieces from New York choreographer Larry Keigwin, who quickly became a Kiwi audience favourite after the success of his work Final Dress in 2012; a neo-classical work by one of the most celebrated chorographers of all time – [George] Balanchine; and a brilliant and fun piece from Johan Kobborg," Stiefel said.
Dunedin-based choreographer and designer Daniel Belton, best known for his multi-award-winning dance films, will create a brand new work for the RNZB. Renowned for his cross-pollination of art forms, dance will be integrated with kinetic sculpture, animation and electronic music in an otherworldly piece called Satellites. The Huffington Post called Belton a "choreographer extraordinaire," and he certainly took New Zealand audiences' breath away in 2012 with his style and vision.
New Yorker Larry Keigwin is also coming back, this time with two pieces – Mattress Suite and Megalopolis. Mattress Suite creates six scenes about love affairs either on or near a mattress and is the first time Keigwin has allowed a company other than his own the privilege of performing this signature work. Megalopolis, on the other hand, is about the encounter between formalism and club culture.
Plus, prima ballerina Gillian Murphy will make her last appearance as RNZB's Principal Guest Artist during this programme, showing off her virtuoso technique in Balanchine's Allegro Brillante.
Lastly, Johan Kobborg, who co-choreographed the RNZB's acclaimed 2012 production of Giselle with Ethan Stiefel, returns with his signature work Les Lutins, a work for three dancers while a violinist and pianist play live on stage. The New Zealand Development Prize Winner at the 2013 Michael Hill International Violin Competition, Kiwi Benjamin Baker returns home for the tour, and Wellington-based RNZB rehearsal pianist Michael Pansters makes his official RNZB debut.
"The Royal New Zealand Ballet's mixed bills have become an audience favourite and this one guarantees to impress," said Amanda Skoog, RNZB's Managing Director. "It's a fresh line-up with something for everyone – like a ballet sampler – and a great option for those new to ballet and keen to see its various styles, from the finest classical to the most extraordinary contemporary works."
For more information on the Allegro programme, visit www.rnzb.org.nz. To find out the tour dates, see below.
RNZB Tour Dates
Auckland: Wednesday, July 30 – Friday, August 1 at 7:30 p.m.; Saturday, August 2 at 1:30 and 7:30 p.m. at ASB Theatre
Hamilton: Tuesday, August 5 at 7:30 p.m. at Founders Theatre
Napier: Friday, August 8 at 7:30 p.m. at Napier Municipal Theatre
Palmerston North: Tuesday, August 12 at 7:30 p.m. at Regent on Broadway
Wellington: Friday, August 15 at 7:30 p.m.; Saturday, August 16 at 1:30 and 7:30 p.m.; Sunday, August 17 at 1:30 p.m. at St James Theatre
Invercargill: Wednesday, August 20 at 7:30 p.m. at Civic Theatre
Dunedin: Saturday, August 23 at 7:30 p.m. at Regent Theatre.
Photo: Royal New Zealand Ballet in Larry Keigwin's Megalopolis. Photo courtesy of Royal New Zealand Ballet.