RNZB begins 2015 with flirtatious favourite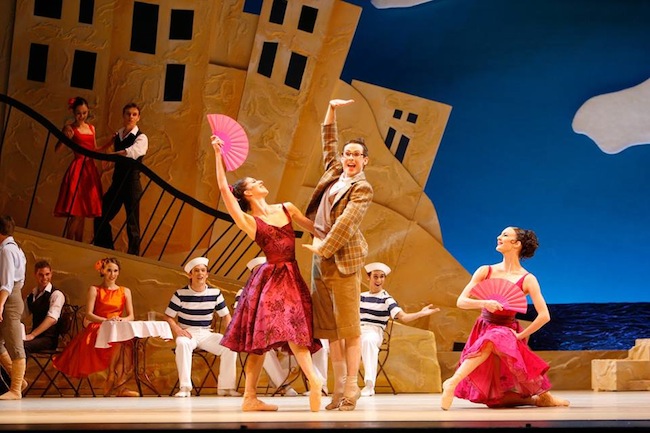 The Royal New Zealand Ballet opens its 2015 season with Don Quixote, a timeless tale of adventure, chivalry and love that has inspired one of the greatest works in classical ballet. The RNZB's Don Quixote, first seen in 2008 and acclaimed for its "smashing dancing", is a fiery, flirtatious delight, combining virtuoso choreography with comic flair that appeals to all ages.
Don Quixote is a ballet that excites new RNZB Artistic Director Francesco Ventriglia. "I'm very happy that in my first season I can push our young talented dancers to rise to the challenge that this ballet presents, to combine brilliant balletic technique with the great acting ability. The dancers have a superb story to tell and they will give it their all," he stated.
The fast-paced story follows dreamer Don Quixote, together with his nephew Sancho Panza, as they nobly aid and abet lovers Kitri (beautiful and feisty) and Basilio (penniless but proud) in their struggles with the devious Gamache and his cohort of street dancers, Kitri's pretentious father, and a very cute shaggy dog.
Complete with runaway lovers, a visitation from Cupid and a moonlit gypsy encampment, Don Quixote is a romp of a ballet that will bring Spanish sunshine to audiences around New Zealand. A special highlight is the grand pas de deux for lovers Kitri and Basilio, who ignite Spanish fire onstage with every breathtaking step and prove that true love really does conquer all.
The fun-filled production, set in Barcelona, includes vivid storybook style sets and costumes by former Artistic Director and Designer Gary Harris (known for The Nutcracker and The Sleeping Beauty) with choreography by New Zealander Adrian Burnett.
Opening in Wellington at the St. James Theatre on March 4, the production tours until April 1 to Christchurch, Invercargill, Dunedin, Auckland and Palmerston North. In each centre, the company will offer "Warm Up, Curtain Up" sessions, plus free post-performance Q&As in Auckland and Wellington. For further information or to book tickets, visit www.rnzb.org.nz.
Photo: Royal New Zealand Ballet performing Don Quixote in 2008. Photo courtesy of RNZB.
---