Queensland Ballet moves to redevelop home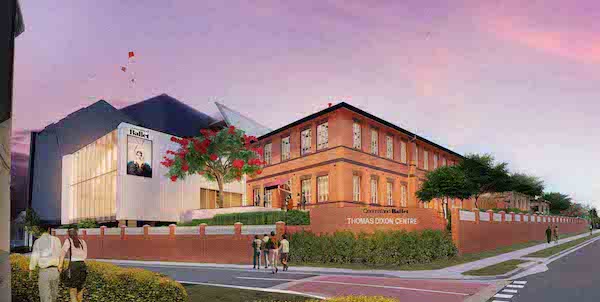 Queensland Ballet recently took the next step in developing a state-of-the-art performing arts facility in West End when it unveiled plans for its new home to the public and welcomed feedback and submissions.
Artistic Director Li Cunxin and Executive Director Dilshani Weerasinghe jointly announced on 26 February a period of public notification for the redevelopment of the Thomas Dixon Centre, home to Queensland Ballet for the past 26 years.
"This is a huge milestone for us as a company as we build on our strong foundations as Queensland's state ballet company and develop as a world-class arts organisation," Li said. "We're thrilled to be moving into this next phase and sharing the plans for our future with the general public and inviting feedback on the design for our new home."
The Thomas Dixon Centre in Brisbane's West End has been home to Queensland Ballet since 1991 and has nurtured many talented, dedicated artists and different arts organisations. After a period of remarkable growth under the artistic directorship of Li Cunxin, the company now needs larger and more advanced facilities to progress its artistic and business vision.
Executive Director Dilshani Weerasinghe said the company's programs and activities are now constrained by the size and quality of the current facilities at the Thomas Dixon Centre.
"Our dancer ensemble has grown from 25 dancers in 2012, to 51 in 2018 with the aim of reaching 60 dancers by 2020. This growth is indicative of the growth throughout the company in terms of business, programs, engagement activities, community outreach and of course the world-class performances we bring to the stage," Weerasinghe said.
"This redevelopment of our home will provide us with a strong and solid foundation on which to move forward with our vision of growth and enriching lives through ballet," she added.
This phase of the redevelopment will see the proposed plans for the Thomas Dixon Centre, conceived by leading architects Conrad Gargett, released publicly for feedback and submissions. This release will also include the draft Environmental Assessment Report being made public.
Li invited all interested parties to view the plans and Environmental Assessment Report and provide feedback.
"Those wishing to view these exciting plans can do so by visiting our website and following the links to the public feedback site. We will also have a visual display of the plans in our reception area that will be accessible during business hours," he said.
"We're very excited about this next step in our journey as a company and feel it's a privilege to be stewarding this company into a new era. We're incredibly grateful to the Ian Potter Foundation for sharing our vision and committing to support this project even before we had fully developed its scope. Their belief in our future allowed us to dream big and was certainly a catalyst for us moving this project forward," Li said.
"I do believe this redevelopment will be transformational for us as a company and see it as a legacy project for the whole arts industry in Queensland," Li concluded.
To view the plans and Environmental Assessment Report, visit www.queenslandballet.com.au.
---