QL2 Dance presents 2013 'On Course'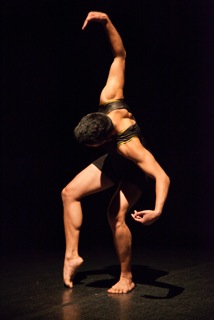 At the end of every university year, QL2 Dance attracts tertiary dance students from across Australia and New Zealand to Canberra for On Course, a choreographic project where dancers meet and mingle with their peers to create and perform their own short dance works.
This year, On Course attracted numerous new and returning choreographers and their works will all be presented this Saturday and Sunday, 14 and 15 December at 7 p.m. at QL2 Theatre in Gorman House Arts Centre.
Dancers participating in On Course get the support needed to create a personal, original new work. They receive mentorship and access to space, all blissfully free of university assessment. Plus, they get to choose their own music and costuming while also stepping into the role of dancer in the works of other choreographers.
"We are different from summer schools," says QL2 Dance's Artistic Director Ruth Osborne. "We look for people who are keen to push their creative limits, and then give them space to interact and work with each other. We believe that the chance to form connections with their peers and the freedom to practise their own choreography will better prepare them for the void that awaits them when they graduate."
Eliza Sanders, studying at New Zealand School of Dance, says, "As far as I know there is no other program like it, and it's so important that dancers have a forum to test things out when they are at this stage of their training. On Course is certainly a challenge at the end of a busy year, but I would be a fool to pass up the opportunity to explore my creativity in a supportive and established setting with such quality mentoring."
On Course is remembered fondly by past participants: Melbourne-based Ashlee Bye says, "By my second year at On Course, I was having fun not worrying about whether other people would like my concepts, and in my third, I was experimenting with ideas that are still fuelling my work now, two and three years later. And I am still creating work with Brisbane-based Courtney Scheu, who I met in our first On Course season."
Ruth says, "It's great when dancers from QL2 return to us and we have a chance to see how far they've come since beginning their full-time tertiary training, but it's also fantastic to see new faces from different corners of the country coming here to collaborate, create and start forming some networks."
Ex-Canberra dancer Paul Jackson has been studying at Deakin University in Melbourne and is interested in seeing how improvised and choreographed movement can operate simultaneously through his work at On Course this year.
Overall, On Course performances will present eight bite-sized works – each less than 10 minutes – exploring concepts, personal experiences and social issues in a variety of stylistic voices. For more information, or to book tickets, visit QL2.org.au. Tickets are $12 to $16.
Photo: A dancer performing in QL2 Dance's On Course in 2012. Photo courtesy of QL2 Dance.