PSA moves to new location & hosts auditions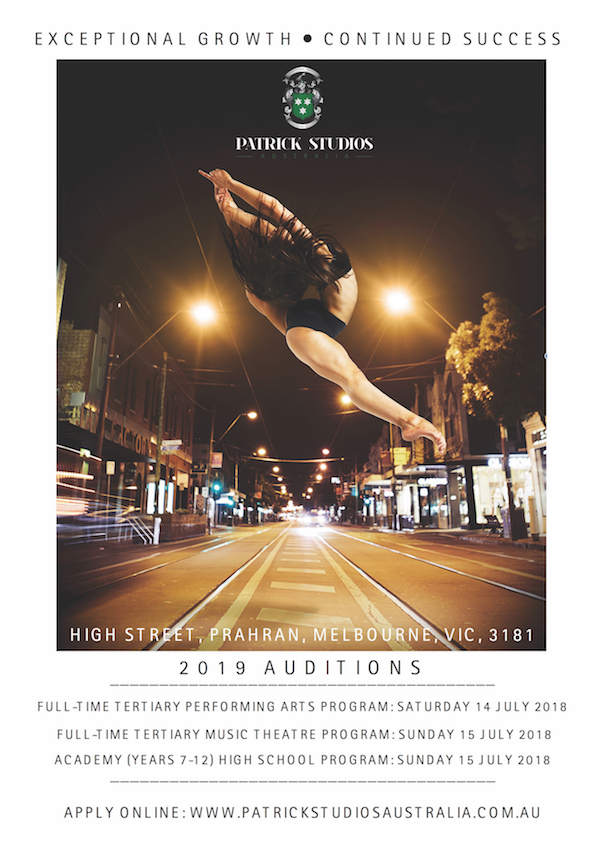 Patrick Studios Australia (PSA) is celebrating exceptional growth and continued success this year. The 12-year-old dance training organisation has now made a move to a new facility to in Prahran.
This step forward takes PSA onto Melbourne Polytechnics' campus, between Green Street and High Street. PSA will now enjoy eight dance studios (including five brand new!), acrobatic classes in the state-of-the-art facilities at NICA National Circus Centre (NCC), classes and performances held on-site at David Williamson Theatre, a Pilates studio and fully functioning gym, three drama/vocal studios, a state-of-the-art lecture theatre, a ground floor café, an outdoor café, two academic classrooms, a central courtyard and a huge wardrobe department.
PSA students will perform at the NCC, a 12-meter high venue with a 350+ seating capacity that was designed by Cox Architects & Planners and launched in 2007.
This new location is ideal, with just a 30-second walk to Chapel Street, a 30-second walk to Greville Street and the brand-new Cato Square parklands. Public transport facilities are convenient with South Yarra and Windsor Station just five to 10 minutes away. The Chapel Street tram will also make travelling to PSA a breeze.
"We will continue our long standing relationship with Swinburne University of Technology to facilitate our accreditation for our tertiary level education," explained PSA's announcement.
This weekend PSA is holding auditions for 2019 entry to its Full Time courses. On Saturday, July 14, dancers can audition for the Full Time Tertiary Performing Arts Program. Then on Sunday, July 15, dancers can audition for the Full Time Tertiary Musical Theatre Program and The Academy (High school years 7-12).
PSA also offers the Elite training program and Junior development programs.
For more information, visit www.patrickstudiosaustralia.com.au. Click here for the audition application.
---