Pointe Shoe Decorating at Capezio Stores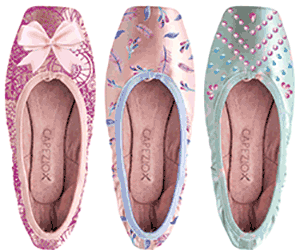 Capezio Australia will soon offer Pointe Shoe Decorating Days at two of its storefronts in Victoria. Capezio Elsternwick's event is set for Thursday, October 5 while Capezio Mornington's event will be Friday, October 6. The cost is $5 per shoe and all ages are welcome.
Places for these Pointe Shoe Decorating Days must be booked in advance. Call Capezio Elsternwick at 03 9532 8492 and Capezio Mornington at 03 5975 0266 to reserve your spot.
Capezio Elsternwick is located at 296 Glen Huntly Road, Elsternwick VIC 3185.
Capezio Mornington is located at 12-14 Milgate Drive, Mornington VIC 3931.
Don't miss your chance to artistically embellish and beautify the broad, feathered toe box of a gorgeous Capezio pointe shoe!
Of course, participants can stay and shop while in store too! The Capezio supplies various styles of dance shoes, dancewear and accessories for adults and children. Visit www.capezioaustralia.com for more information.
---