Paloma Gómez offers workshops in Perth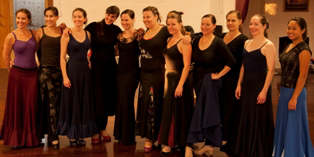 Flamenco and Spanish Dance expert Paloma Gómez has returned to Perth and is currently teaching technique classes and choreography at Casa Del Compás School of Spanish Dance. Her exquisite style and technique, together with her gift of bringing out the best in students, promises a wonderful dance experience across all levels.
General classes began Tuesday and run through this Saturday, March 24. They are open to all levels and students are able to attend either casually or regularly, as each session is a stand-alone lesson. Gómez will also be running a six-hour course for intermediate and advanced students, in which she'll be teaching choreography.
To learn more about Gómez, visit http://palomagomez.com.es. Head to the Facebook event page to see upcoming class times. Contact Farida at faridance@bigpond.com for further details and bookings.
The Casa Del Compás School of Spanish Dance is located at 9/30 Port Kembla Dr, Bibra Lake, WA.
Photo courtesy of Paloma Gómez.
---