Ochre works with 'choreographic legends'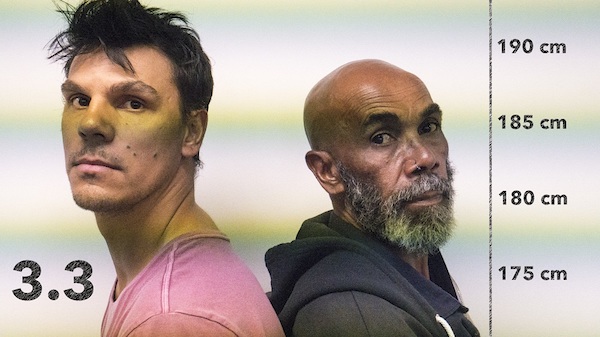 Western Australia's Ochre Contemporary Dance Company will soon present 3.3 and Beyond at the Subiaco Arts Centre on 26 May - 3 June. The double-bill dance performance will be accompanied by a screening of a short film directed by Ochre Contemporary Dance Company's Artistic Director Mark Howett.
The first work, 3.3, portrays a successful Indigenous dancer on the brink of an international career, thrown into a holding cell because of his skin colour and who is torn between two cultures. Ian Wilkes dances the feature role, choreographed and originally created by Indigenous dance legend Michael Leslie, who performs with him in this new adaptation.
The work's description states, "The dancer at the heart of 3.3 is torn between excelling on the white fella's world stage or staying on his country and cultivating his community and culture. Ultimately, he just wants to dance. If he goes the blackfella way he breaks whitefella way, if he goes whitefella way he breaks blackfella law. The young man is caught in the middle. The terrible legacy of this dilemma is that the young black fella believes gaol is also a rite of passage for young men in his community. Aboriginal people represent 3.3% of the total population, yet more than 28% of Australia's prison population."
This young man will communicate his anger, frustration and people's history via 100 original dance steps described by words from the Gamilaraay and Noongar languages. When his mentor Michael Leslie joins him in his prison cell after deliberately getting himself arrested, he tries to talk some sense into the young man.
This marks the first performance of Michael Leslie, doyen of Indigenous Dance, in decades. Leslie, 60, was a poor kid from Moree who fled to Sydney to become a dancer. He won a Churchill Fellowship, spent seven years in New York with Alvin Ailey American Dance Theater, choreographed Bran Nue Dae and established the Michael Leslie Foundation to mentor indigenous youth across rural WA.
This work is the first to feature his Aboriginal Dance Method, developed as a Masters Thesis, a fusion of African American and contemporary dance, ballet and physical theatre.
Leslie performs alongside Ian Wilkes, master of Noongar Dance. Indigenous musician David Milroy composes under the direction of Mark Howett, who is also designer for the production. The work has been invited to the Berlin Be-Bop Festival in 2019.
Beyond, on the other hand, is the result of original Ochre Contemporary Dance member Floeur Alder commissioning award-winning choreographer Chrissie Parrott to make a solo work. It is a 30-minute transformative solo that aims to take dancer and audience on a transformative journey. A poetic and surreal work that asks the performer to uncover the "pure" form that often lies dormant in classical or contemporary dance - to go beyond the conventional.
Accompanying these works is a screening of Snake Dance, a 10-minute film made by Mark Howett during Ochre's residency in late 2017 with the Daksha Sheth Dance Company based outside Trivandrum in Kerala, India. The work is a reaction to the dance development and content discovered during the project. In Sand the performers transform into powerful dancer/deities who struggle with their godly powers and ancient wisdoms, trying to help make sense of our modern world.
Artistic Director Mark Howett said, "I am thrilled to present an evening of dynamic dance with two of Australia's choreographic legends, Michael Leslie and Chrissie Parrott. I have worked with them both for more than 30 years and this season is the first time we will be presenting work together."
Performances are scheduled for 26 May – 3 June (with no show on 28 May) at 7:30 p.m., except on Sundays, which will be at 5:30 p.m. The Subiaco Arts Centre Studio is located at 180 Hamersley Road, Subiaco. The entire performance will be 110 minutes including interval.
For tickets, head to ptt.wa.gov.au. For more information, visit ochredance.org.
Photo by Mark Howett.
---